Heavy QuiverRequires Level 5Adds 1 to 4 Physical Damage to Attacks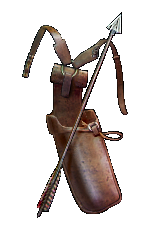 Acquisition
Area level: 7
DROP DISABLEDVendor Offer
1x Scroll FragmentMetadata
Item class: Quivers
Metadata ID: Metadata/Items/Quivers/Quiver4
Heavy Quiver is a quiver base type.
Unique versions
Item
BroadstrokeBroadstroke
Heavy QuiverRequires Level 5Adds 1 to 4 Physical Damage to Attacks30% increased Global Physical Damage
(10-15)% reduced Enemy Stun Threshold
(20-30)% increased Stun Duration on EnemiesSeeing only foot soldiers, the Sarn Knights cast aside
their heavy shields... and paid dearly for their mistake.
5
Drop restrictions
This item can not drop anymore. It can only be obtained by trading with other players.
Version history
| Version | Changes |
| --- | --- |
| 1.2.0 | The new quiver progression added in Ambush and Invasion has now been introduced to all leagues. The old Standard and Hardcore quivers will no longer drop. |