Horticrafting Station
From Path of Exile Wiki
Horticrafting StationHideout Item
Stack Size: 200 VariationsFavour cost: 0
Sell Price
1x Scroll FragmentMiscellaneous
Item class: Hideout Doodads
Metadata ID: Metadata/Items/Hideout/HideoutHarvestCraftingBench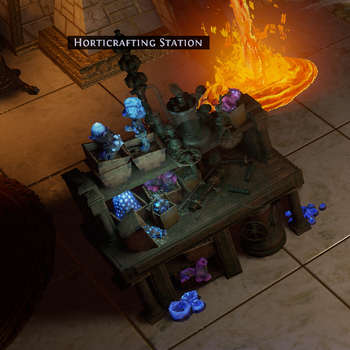 This article needs to be updated for the following reason: Harvest has been added to the core game in version 3.13.0, albeit in a greatly simplified form that does not include garden building.
Please update this article to reflect newly available information.
The Horticrafting Station is a hideout object that provides the Horticrafting ability. Players may store up to 10 Horticrafting mods in the station, and may use those mods at any time directly from their hideout.
Unlocking
In order to unlock this hideout object, players need to run maps until an entrace to The Sacred Grove appears. Players then need to complete the grove encounter by following these steps. Then players can return to their hideout, and open the hideout customization interface and add the Horticrafting Station.
Usage
Unlike a regular Crafting Bench which allows unlimited usage of unlocked crafting options, the Horticrafting Station can store only 10 craftable mods. The same mod can be added to the station multiple times, if it is available in the grove.
From the bench interface, players can:
Place an item into a socket for crafting
Use stored Horticrafting mods on the item, consuming the mod. Players get only one try to use each mod.
Delete stored Horticrafting mods, freeing up space to store other mods
Version history
| Version | Changes |
| --- | --- |
| 3.13.0 | |
Ritual league

Mechanics

Ritual Splinter

Ritual Splinter

Stack Size: 100Combine 100 Splinters to create a Ritual Vessel.
Shift click to unstack.
Ritual Vessel

Ritual Vessel

Stack Size: 10

Stores the monsters slain for the first time from a completed Ritual Altar for future use

Right-click this item then left-click a Ritual Altar to store the monsters from the completed Ritual in this item. Cannot be used on a Ritual in a map opened with a Blood-Filled Vessel.
Shift click to unstack.
Blood-filled Vessel

Blood-filled Vessel

Rituals have 20% improved Favour Rewards
Rituals spawn Monsters 20% faster
Rituals have 20% more maximum monsters alive

Can be used in a personal Map Device alongside a Map to add the monsters stored from a previous Ritual Altar to a Ritual Altar in that Map.

---

Atlas

Maven's Mechanics
Maven's Invitations
Passives

Elevated Sextant

Elevated Sextant

Stack Size: 10

Adds or rerolls a modifier on a Watchstone.

Right click this item then left click a Watchstone to apply it.
Shift click to unstack.
Orb of Unmaking

Orb of Unmaking

Stack Size: 40

Grants an atlas passive skill refund point

Right click on this item to use it.
Shift click to unstack.

Maps

---

Watchstones

Chromium
Platinum
Titanium
Unique

---

Harvest Crafting
Skill Gems

Hydrosphere

Hydrosphere

Spell, AoE, Duration, Cold, Orb, Lightning, Physical
Cost: (12-20) Mana
Cast Time: 0.60 sec
Critical Strike Chance: 5.00%
Effectiveness of Added Damage: 80%Requires Level 34

Create a sphere of water, or move an existing sphere and reset its duration. The sphere continually applies a drenched debuff with a short duration to enemies in its area or those it moves through. You can hit the sphere with other skills to inflict Cold and Lightning Ailments (other than Chill). The sphere pulses when created, at regular intervals while afflicted by an Ailment, and after moving, damaging all drenched enemies in a large area.

Per 1% Quality:1

Superior

2

Anomalous

3

Divergent

0.5% increased Pulse Frequency

0.5% increased Cast Speed

0.5% increased Area of Effect

Base duration is 8 seconds
Deals (37-356) to (56-533) Physical Damage
Pulses every 0.4 seconds while Frozen, Shocked, Brittle or Sapped
Base secondary duration is 4 seconds
Drenched Enemies have Cold and Lightning Exposure, applying -10% to Resistances
100% of Physical Damage Converted to Cold Damage while Sphere has no Ailments
100% of Physical Damage Converted to Lightning Damage while sphere is Shocked or Sapped
100% of Physical Damage Converted to Cold Damage while Sphere is Frozen or Brittle

Place into an item socket of the right colour to gain this skill. Right click to remove from a socket.

Trinity Support

Trinity Support

Support
Icon:

y


Cost and Reservation Multiplier: 140%Requires Level 18

Supports skills that hit enemies, causing them to gain bonuses while you have resonance of all three elements, and to grant resonance of elements other than the highest one in a hit. There is a maximum of 50 Resonance for each Element. Cannot support triggered skills, instant skills, orb skills, brands, skills which reserve mana, or skills used by totems, traps, or mines. Cannot modify the skills of minions.

Per 1% Quality:1

Superior

2

Anomalous

3

Divergent

Supported Skills deal 0.5% increased Elemental Damage

Supported Skills have 0.75% increased Attack and Cast Speed while each Resonance is at least 25

Supported Skills convert 0.5% of Physical Damage to a random Element

Supported Skills deal (3-5)% more Elemental Damage per 5 of lowest Resonance
Supported Skills penetrate (10-20)% Elemental Resistances while each Resonance is at least 25
Hits with Supported Skills for which the highest Damage Type is Elemental cause you to gain 25 Resonance of other Elements per second for 2 seconds
Lose 5 Resonance per second of each Element you are not gaining

This is a Support Gem. It does not grant a bonus to your character, but to skills in sockets connected to it. Place into an item socket connected to a socket containing the Active Skill Gem you wish to augment. Right click to remove from a socket.

---

Unique Items