Immaculate Hideout
Immaculate Hideout
Hideout area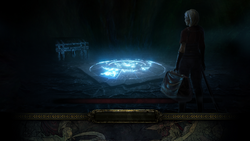 Immaculate Hideout is the hideout of Zana, Master Cartographer. It uses the Solaris tileset.
The waypoint is at the centre of a large semi-circular balcony. Larger sized hideouts open additional sections behind the balcony.
The three sizes of hideout have 1, 2 or 3 rooms.
Unlocking
Immaculate Hideout can be found in
Ivory Temple MapIvory Temple MapMap Level: 78
Map Tier: 11
Guild Character: mMan and nature intertwined, but only for the chosen few.Travel to this Map by using it in a personal Map Device. Maps can only be used once.
.