Ivory Temple Map
Map Level: 78
Map Tier: 11
Guild Character: m
Man and nature intertwined, but only for the chosen few.
Travel to this Map by using it in a personal Map Device. Maps can only be used once.
Acquisition
Level: 77
Vendor Prices
Vendor Offer
1x Scroll Fragment
Miscellaneous
Item class: Maps
Man and nature intertwined, but only for the chosen few.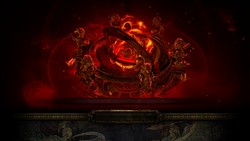 Ivory Temple Map is a map area.
Layout
Encounters
The boss encounter is similar to Perandus chest encounter of Perandus league. The boss is guarding a Temple Stash and the stash will keep spawning adds. Killing the boss will despawn the adds and unlock the Temple Stash. The character still need to click the stash to actually open it.
The Temple Stash looks similar to, but it is not a Perandus chest.
Boss
Any one of these bosses:
Argient

Auriot

Pallias

Platinia

Rheniot

Rhodion
Some of the above bosses have increased chance to block attack and spell, which may require to use build with
Block Chance Reduction SupportBlock Chance Reduction SupportSupport, Duration
Icon: B
Level: (1-20)Requires Level 18Supports any skill that hits enemies.Per 1% Quality:1Superior2AnomalousSupported Skills have 0.25% reduced Enemy Block ChanceSupported Skills have 2% increased Overpowered EffectEnemies have -(10-20)% chance to Block Attack or Spell Damage from Supported Skills
Enemies have -(20-29)% chance to Dodge Attack or Spell Hits from Supported Skills
Supported Skills inflict Overpowered for 4 seconds when Blocked
Overpowered applies -5% chance to Block Attack and Spell DamageThis is a Support Gem. It does not grant a bonus to your character, but to skills in sockets connected to it. Place into an item socket connected to a socket containing the Active Skill Gem you wish to augment. Right click to remove from a socket.
to kill them.
Boss video
Items found in this area
Item
The Sun

The Sun

7

Rise of the Phoenix

Each night, the light dies, and each morning she is born anew, embracing the land in her golden wings.

1
The Gambler

The Gambler

5

Divination Card

"I don't believe in karma. If it were real, I would never win."

1
Her Mask

Her Mask

4

Sacrifice FragmentTo her beauty you submit,
lest your neck the great Queen slit.
1
Boundless Realms

Boundless Realms

4

Map

Boundless is the distance between where we start and where we start again.

1
Dialla's Subjugation

Dialla's Subjugation

7

Superior Support Gem


Quality:

+23%


CorruptedA symbol of beauty and innocence
The gems corrupted her mind
Malachai corrupted her gems
All but a glimmer of
greatness lost in madness
1
Lingering Remnants

Lingering Remnants

16

Vaal Temple Map


Item Level:

83


CorruptedNever dying, yet not living,
Endlessly they wander
beneath the harvest moon.
1
The Opulent

The Opulent

5

Ring


Item Level:

100

Wealth can, in fact, buy happiness.

1
The Mayor

The Mayor

5

The Perandus Manor


Watchstone Count:

4

A ruler is only as powerful as he is wealthy.
Control the coin, control the empire.
1
The Twins

The Twins

8

Gemini Claw of Celebration


Item Level:

83

Two sides of a coin;
Heads for a friend,
tails a foe;
Gemini toss up
1
The Golden Era

The Golden Era

7

Flaring Eclipse Staff


Item Level:

100

Before gemlings, before thaumaturgy, a simple court magician could enthrall the masses.

1
Item acquisition
Upgrade paths
This item can be acquired through the following upgrade paths or vendor recipes:

Amount
Ingredient
General
Notes
Type
4
Boundless Realms

Boundless Realms

4

Map

Boundless is the distance between where we start and where we start again.

random map
Automatic
6
The Explorer

The Explorer

6

Map
Corrupted

A map is only useful if you know where you stand.

random corrupted map
Automatic
1
The Void

The Void

1

Reach into the Void and claim your prize.

random divination card set exchange
Automatic
Unique versions
There are currently no unique items for this base item type.
Version history
Version
Changes
3.5.0

The Atlas of Worlds has been shuffled. Most maps have changed tier and location within the Atlas.
Many map bosses have also shifted around. Some have been retired and replaced!

3.1.0

The entire Atlas has been reworked. Many map names have changed, as have their balance, tier and position on the Atlas. Many maps have also had their boss fights swapped or completely reworked.
The rules used to generate monsters in endgame maps have been significantly reworked and rebalanced around the rate at which we expect players to reliably clear out the map. In general, narrow, linear maps will contain fewer total monsters than maps with complex layouts. We will be closely monitoring and adjusting the balance of this change and expect to make further changes and improvements over time.

2.4.0