Fury and flame come to life.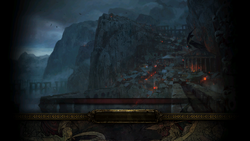 Kaom's Dream is an area in Act 4. It doesn't have a waypoint and is connected to The Crystal Veins and Kaom's Stronghold.
Monsters
Guest monsters:
Items found in this area
Item
The Battle Born

The Battle Born

5

Axe

"No man can best me, no demon can fell me. For I vanquish all with my axe!"

1
Lore
Kaom was a mighty king of the Karui. He defeated Lioneye, but that is when the troubles began. The black spirit infected the animals, the earth, and even caused nightmares that drove his people to madness. As troubles befell the Karui, Kaom sought the guidance of the ancestors. In desperation, he brought back the ancient sacrifices. At wit's end, he gathered 500 of his fiercest, bravest warriors and descended into the earth. Here, in Kaom's Dream, you learn what happened to those warriors.
Version history
| Version | Changes |
| --- | --- |
| 2.4.2 | |
| 2.0.2 | Kaom's areas now rain down fiery meteoric flame golems. |
| 2.0.0 | |