The fates of two peoples now stand reversed, but history has taught the Oriathans humility and the Karui mercy.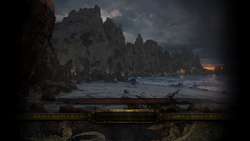 Karui Shores is a town in Epilogue. Like all towns, it has a Waypoint, Stash, Guild Stash, Noticeboard, and Event noticeboard.
And somehow when you first enter the Karui Shores, The player is laying on the ground just like in the start of the game in The Twilight Strand.
Version history
| Version | Changes |
| --- | --- |
| 3.9.0 | |