Lair of the Wolven King
This article describes historical game content.
Lair of the Wolven King is only available in Talisman league; it was not added to the main game
Lair of the Wolven King
area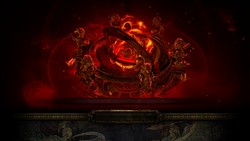 Area does not contain Rogue Exiles (Hidden)
Lair of the Wolven King is an area that is only accessible when five tier 3 talismans are sacrificed in a Stone Altar, which is available in Talisman league. The level of the map is dependent on the item level of the sacrificed talismans.
Monsters
Items found in this area
There are currently no items that have a drop table specific to this area.
Version history
| Version | Changes |
| --- | --- |
| 2.2.0 | |
| 2.1.0 | Introduced to the game as league-only area. |