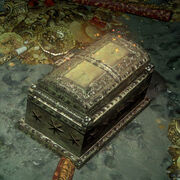 A Large Chest is a loot container that appears in certain areas. Opening a Large Chest causes a flurry of items to drop out.
Areas
Large Chests can only be found in the unique maps
Vaults of AtziriVaults of Atziri
Vaal Pyramid MapMap Level: 79
Map Tier: 12
Guild Character: gChests have (2500-3500)% increased Item Rarity
Area contains no monsters
Chest drop scaling is disabled. (Hidden)
Found Items have a (20-40)% chance to drop Corrupted in Area"Should I depart this mortal coil,
so shall all of my treasures."
- Atziri, Queen of the VaalTravel to this Map by using it in the Templar Laboratory or a personal Map Device. Maps can only be used once.
and
Acton's NightmareActon's Nightmare
Overgrown Shrine MapMap Level: 76
Map Tier: 9
Guild Character: Ô
Item Quantity: (+80%-+100%)
Item Rarity: (+220%-+250%)Area has patches of Burning Ground
20 patches with Ground Effect per 100 tiles (Hidden)
Ground Effect has a radius of 14 (Hidden)
Area is inhabited by Skeletons
Restless Dead
Undead Monsters resurrect after 10 seconds (Hidden)
Area is a large Maze
Area contains a Large ChestCurious, she shook it then,
And tiny screams emerged.
Curiouser, she shook again,
And an eerie silence purred.Travel to this Map by using it in a personal Map Device. Maps can only be used once.
.
There is also a chest in The Twilight Strand (Act 1), which contains the first support gem for a new character. Despite the chest named Large Chest, it has different look as well as did not register for the achievement.
Achievement
There is one achievement related to Large Chest:
| Name | Description |
| --- | --- |
| Golden Touch | Open a Large Chest. |
Version history
| Version | Changes |
| --- | --- |
| Unknown | Now known as Large Chest. |
| 1.1.0 | Golden Chests have been removed from most areas due to Corrupted Secret Areas taking over some of their role. They still exist in the Vaults of Atziri for the achievement. |
| Unknown | |