Leper's Alms
Mirrored Spiked Shield
Quality: +20%
Chance to Block: (29%-30%)
Evasion: (936-1087)
Energy Shield: (179-208)
Movement Speed: -3%
Requires Level 66, 85 Dex, 85 Int
4% chance to Dodge Attack Hits
(500-600)% increased Evasion and Energy Shield
+(60-80) to maximum Life
40% increased Duration of Ailments on Enemies
+(3-4)% Chance to Block
Shared Suffering
One's burden is another's gift.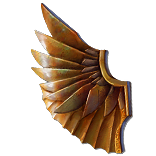 Vendor Prices
Vendor Offer
14x Alchemy Shard
6x Alteration Shard
Metadata
Item class: Shields
Leper's Alms is a unique
Mirrored Spiked ShieldMirrored Spiked ShieldChance to Block: 26%
Evasion: 151
Energy Shield: 29
Movement Speed: -3%Requires Level 66, 85 Dex, 85 Int4% chance to Dodge Attack Hits
.
Modifiers
Shared Suffering: All Damage from (your) Hits will cause Elemental Ailments you are suffering. Elemental Ailments you inflict are removed from you.[1]
Item acquisition
Upgrade paths
This item can be acquired through the following upgrade paths or vendor recipes:

Amount
Ingredient
General
Notes
Type
5
The Mercenary

The Mercenary

5

Shield
Corrupted

Loyalty can be bought. Just make sure you know who the buyer is.

random corrupted shield
Automatic
7
Prejudice

Prejudice

7

Item


Influenced ItemOne who is blinded by their past may
only see a sliver of the present.
random influenced item
Automatic
8
Arrogance of the Vaal

Arrogance of the Vaal

8

Item


Two-Implicit


Corrupted

Discovery can lead to beauty, or it can lead to ruin.

random two-implicit corrupted item
Automatic
4
Jack in the Box

Jack in the Box

4

ItemTurn the crank,
close your eyes,
and pray to the gods
for a pleasant surprise.
random item
Automatic
1
Singular Incubator

Singular Incubator

Adds an incubated Unique item to an equippable item
Item drops after killing # monsters

Unique Item

Right click this item then left click an item to apply it. The Incubated item drops after killing a specific number of monsters.

random item
Automatic
1
The Void

The Void

1

Reach into the Void and claim your prize.

random divination card set exchange
Automatic
Legacy variants
Leper's Alms has a legacy variant.
Version Discontinued
Modifiers
3.5.0




4% chance to Dodge Attack Hits

(130-150)% increased Evasion and Energy Shield

+(60-80) to maximum Life
40% increased Duration of Ailments on Enemies
+(3-4)% Chance to Block
Shared Suffering
Version history
Version
Changes
3.14.0

(Not in patch note) Shaper Guardian, Elder Guardian and Elderslayer unique are moved to core drop table.[2]

3.5.0

Now has 500-600% (up from 130-150%) increased Evasion and Energy Shield. Existing versions can be updated to these new values with a Divine Orb

Divine Orb

Stack Size: 10

Randomises the numeric values of the random modifiers on an item

Right click this item then left click a magic, rare or unique item to apply it.
Shift click to unstack..
Items exclusive to the Shaper's guardians and the Elder's guardians now drop less frequently. Uniques exclusive to the Elder's guardians now also drop based on map tier, with some items unable to drop until higher map tiers.
(not in patch notes) Can drop from any guardian[3]

3.1.0
References