Lighthouse Map
Map Level: 71
Map Tier: 4
Guild Character: F
Fire ignites the sky.
A signal to keep away.
An invitation to invade.
Travel to this Map by using it in the Templar Laboratory or a personal Map Device. Maps can only be used once.
Acquisition
Area level: 70


DROP DISABLED
Vendor Prices
Vendor Offer
1x Scroll Fragment
Metadata
Item class: Maps
Fire ignites the sky.

A signal to keep away.

An invitation to invade.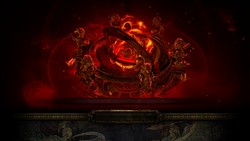 Layout
Encounters
Boss
Boss video
Items found in this area
Item
Lantador's Lost Love

Lantador's Lost Love

7

Two-Stone RingThey fought the storm together as one,
Until the longest of days was done.
Their love grew stronger
with every breath,
Until it was broken apart in death.
1
The Gambler

The Gambler

5

Divination Card

"I don't believe in karma. If it were real, I would never win."

1
Her Mask

Her Mask

4

Sacrifice FragmentTo her beauty you submit,
lest your neck the great Queen slit.
1
Bone Helmet

Bone Helmet

Armour: 197
Energy Shield: 38Requires Level 73, 76 Str, 76 IntMinions deal (15-20)% increased Damage
73
Steel Ring

Steel Ring

Requires Level 80Adds (3-4) to (10-14) Physical Damage to Attacks
80
The Journey

The Journey

3

Harbinger's Orb

Oh the places you will go, the sights you will see, the things you will meet.

1
The Patient

The Patient

8

The Nurse

I have a headache, can anyone find me a nurse?

1
Fugitive Boots

Fugitive Boots

Evasion: 112
Energy Shield: 31Requires Level 70, 56 Dex, 76 Int

+(13–17)% to Chaos Resistance

70
Item acquisition
This item is drop disabled.
Unique versions
There are currently no unique items for this base item type.
Version history
Version
Changes
3.5.0

The Atlas of Worlds has been shuffled. Most maps have changed tier and location within the Atlas.
Many map bosses have also shifted around. Some have been retired and replaced!

3.1.0

Added 32 new maps including two new Unique maps.
The entire Atlas has been reworked. Many map names have changed, as have their balance, tier and position on the Atlas. Many maps have also had their boss fights swapped or completely reworked.
The rules used to generate monsters in endgame maps have been significantly reworked and rebalanced around the rate at which we expect players to reliably clear out the map. In general, narrow, linear maps will contain fewer total monsters than maps with complex layouts. We will be closely monitoring and adjusting the balance of this change and expect to make further changes and improvements over time.

2.4.0

We've added thirty new maps and dozens of new map bosses.