Lochtonial Caress
Iron Gauntlets
Quality: +20%
Armour: 7
(10-15)% increased Attack Speed
(10-15)% increased Cast Speed
+(20-30) to maximum Life
(15-10)% reduced maximum Mana
10% chance to gain a Power, Frenzy or Endurance Charge on Kill
Conduit
Why cling to your sanity? It offers you nothing.
Surrender to me, and I will grant you everything.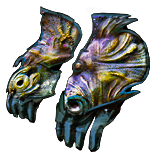 Vendor Prices
Vendor Offer
12x Alchemy Shard
9x Alteration Shard
Metadata
Item class: Gloves
Lochtonial Caress is a pair of unique
Iron GauntletsIron GauntletsArmour: 6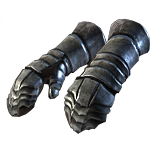 .
Modifiers
The Conduit mod has the same effect as the keystone, Conduit. Taking the keystone in addition to equipping this item will impart no additional benefit.
Item acquisition
Upgrade paths
This item can be acquired through the following upgrade paths or vendor recipes:

Amount
Ingredient
General
Notes
Type
5
Mitts

Mitts

5

Gloves

Those whose hands are their livelihood know the importance of keeping them safe and warm.

random gloves
Automatic
7
Prejudice

Prejudice

7

Item


Influenced ItemOne who is blinded by their past may
only see a sliver of the present.
random influenced item
Automatic
8
Arrogance of the Vaal

Arrogance of the Vaal

8

Item


Two-Implicit


Corrupted

Discovery can lead to beauty, or it can lead to ruin.

random two-implicit corrupted item
Automatic
4
Jack in the Box

Jack in the Box

4

ItemTurn the crank,
close your eyes,
and pray to the gods
for a pleasant surprise.
random item
Automatic
1
Singular Incubator

Singular Incubator

Adds an incubated Unique item to an equippable item
Item drops after killing # monsters

Unique Item

Right click this item then left click an item to apply it. The Incubated item drops after killing a specific number of monsters.

random item
Automatic
1
The Void

The Void

1

Reach into the Void and claim your prize.

random divination card set exchange
Automatic
Legacy variants
Lochtonial Caress has a legacy variant.
Version Discontinued
Modifiers
2.6.0




(10-15)% increased Attack Speed

(10-15)% increased Cast Speed

+(10-20) to Armour

+(20-30) to maximum Life

(15-10)% reduced maximum Mana

10% chance to gain a Power, Frenzy or Endurance Charge on Kill

Conduit
Version history
Version
Changes
2.6.0

Added mod:

+(20-30) to maximum Life

.
Added mod:

10% chance to gain a Power, Frenzy or Endurance Charge on Kill

.
Removed mod:

+(10-20) to Armour

Changes cannot be obtained by rerolling the item's mods with a Divine Orb

Divine Orb

Stack Size: 10

Randomises the numeric values of the random modifiers on an item

Right click this item then left click a magic, rare or unique item to apply it.
Shift click to unstack..

0.9.6