Maligaro's Sanctum
The inner depths of decadent darkness.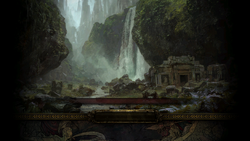 Maligaro's Sanctum is an area in Act 7. This area does not have a waypoint and is connected to The Chamber of Sins Level 1 via a fixed portal.
Access to the area can be gained by placing Maligaro's Map in the map device located in The Chamber of Sins Level 1. It comprises multiple grotesque islands, connected by a sequence of plank bridges. At the end is a small arena for the encounter with Maligaro.
Quests
Monsters
Items found in this area
There are currently no items that have a drop table specific to this area.
Version history
| Version | Changes |
| --- | --- |
| 3.0.0 | |