Maze MapMap Level: 81
Map Tier: 14
Guild Character: <Travel to this Map by using it in the Templar Laboratory or a personal Map Device. Maps can only be used once.
Acquisition
Area level: 81
DROP DISABLEDVendor Offer
1x Scroll FragmentMetadata
Item class: Maps
Metadata ID: Metadata/Items/Maps/MapAtlasMaze
| | |
| --- | --- |
| Id | MapAtlasMaze |
| Act | 11 |
| Area level | 81 |
| Bosses | Shadow of the Vaal |
| Area type tags | dungeon, temple |
| Tags | indoors_area, map, einharmaps, vaal_pyramid_area |
| | The Shaper: They live trapped forever in darkness and confusion. We are no different. |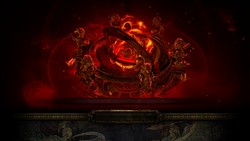 Maze Map is a map based on the Ancient Pyramid zone in Act 2.
Map Type: Indoors
Boss
Shadow of the Vaal, based on Vaal Oversoul.
Items found in this area
Item
The Gambler

The Gambler

5

Divination Card

"I don't believe in karma. If it were real, I would never win."

1
The Inventor

The Inventor

6

10x Vaal OrbJump right in,
But beware
Of things broken
Or beyond compare.
1
The Encroaching Darkness

The Encroaching Darkness

8

Map
Corrupted

No matter where your dreams take you, Nightmare follows close behind.

1
Lingering Remnants

Lingering Remnants

16

Vaal Temple Map


Item Level:

83


CorruptedNever dying, yet not living,
Endlessly they wander
beneath the harvest moon.
1
Item acquisition
This item is drop disabled.
Upgrade paths
This item can be acquired through the following upgrade paths or vendor recipes:

Amount
Ingredient
Type
3
Plaza Map

Plaza Map

Map Level: 80
Map Tier: 13
Guild Character: :

Travel to this Map by using it in the Templar Laboratory or a personal Map Device. Maps can only be used once.

Manual
3
Scriptorium Map

Scriptorium Map

Map Level: 80
Map Tier: 13
Guild Character: y

Travel to this Map by using it in the Templar Laboratory or a personal Map Device. Maps can only be used once.

Manual
3
Shaped Tropical Island Map

Shaped Tropical Island Map

Map Level: 80
Map Tier: 13
Guild Character: T

Travel to this Map by using it in the Templar Laboratory or a personal Map Device. Maps can only be used once.

Manual
3
Shaped Shore Map

Shaped Shore Map

Map Level: 80
Map Tier: 13
Guild Character: Q

Travel to this Map by using it in the Templar Laboratory or a personal Map Device. Maps can only be used once.

Manual
Usage in upgrade paths
This item is used by upgrade paths or vendor recipes to create the following items:

Outcome
Amount
Ingredient
Type
Colosseum Map

Colosseum Map

Map Level: 82
Map Tier: 15
Guild Character: »

Travel to this Map by using it in the Templar Laboratory or a personal Map Device. Maps can only be used once.

3
Maze Map

Maze Map

Map Level: 81
Map Tier: 14
Guild Character: <

Travel to this Map by using it in the Templar Laboratory or a personal Map Device. Maps can only be used once.

Manual
Walkthroughs
Other versions
Version history
Version
Changes
3.5.0

The Atlas of Worlds has been shuffled. Most maps have changed tier and location within the Atlas.
Many map bosses have also shifted around. Some have been retired and replaced!

3.1.0

The entire Atlas has been reworked. Many map names have changed, as have their balance, tier and position on the Atlas. Many maps have also had their boss fights swapped or completely reworked.
The rules used to generate monsters in endgame maps have been significantly reworked and rebalanced around the rate at which we expect players to reliably clear out the map. In general, narrow, linear maps will contain fewer total monsters than maps with complex layouts. We will be closely monitoring and adjusting the balance of this change and expect to make further changes and improvements over time.

2.4.0

Most existing maps have been revamped to have more balanced monster composition, layouts, boss fights and rewards.
(undocumented) Name changed from Conservatory Map to Maze Map.

2.0.0

Maps from the old progression no longer drop. They can be played to find maps from the new progression.

1.0.2
0.10.0

Start of open beta. Old map item are wiped from server. The map now a T5 / area level 74 map.

0.9.12u

The level 68 Oversoul Map boss now uses skills of an appropriate level.

0.9.11

Introduced to the game. Initially a T9 map (area level 68)