Maze of the Minotaur Map
Map Level: 83
Map Tier: 16
Guild Character: £
Area is influenced by The Shaper
Travel to this Map by using it in a personal Map Device. Maps can only be used once.
Acquisition
Level: 82
Vendor Prices
Vendor Offer
1x Scroll Fragment
Miscellaneous
Item class: Maps
Maze of the Minotaur
Map area
| | |
| --- | --- |
| Id | MapWorldsMinotaur |
| Act | 11 |
| Area level | 83 |
| Bosses | Guardian of the Minotaur |
| Area type tags | cave, forest |
| Tags | map, no_echo, cannot_be_twinned, indoors_area, einharmaps, cave_area |
| | The Shaper: One of my captors felt no emotion. He did not hesitate to inflict pain. Now all he feels is intense, unstoppable agony. |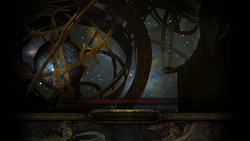 Maze of the Minotaur Map is a map area.
Layout
Indoors. Based on The Caverns.
Encounters
Boss
The boss of this area always drops one
Fragment of the MinotaurFragment of the MinotaurItem Quantity: +5%5% increased Quantity of Items found in this AreaEnter the crucible. The nexus of
nothingness and equilibrium of eternity.Can be used in a personal Map Device.
and has a chance to drop one of the following unique items:
Brain RattlerBrain Rattler
MeatgrinderTwo Hand Mace
Quality: +20%
Physical Damage: (160.8-184.8) to (489.6-549.6)
Critical Strike Chance: 5.00%
Attacks per Second: 1.25
Weapon Range: 13Requires Level 63, 212 Str

5% chance to deal Double Damage

Adds (60-80) to (270-320) Physical Damage
50% of Physical Damage Converted to Lightning Damage
50% chance to Shock
Shock Enemies as though dealing 300% more Damage
Damage Penetrates 20% Lightning Resistance
Enemies you Shock have 30% reduced Cast Speed
Enemies you Shock have 20% reduced Movement Speed

The mind may have no limits, but the skull sure does.

The Brass DomeThe Brass Dome
Gladiator PlateQuality: +20%
Armour: (5313-5682)
Movement Speed: -5%Requires Level 65, 177 Str30% reduced Chance to Block Attack and Spell Damage
(600-650)% increased Armour
10% reduced Movement Speed
50% increased Shock Duration on you
Take no Extra Damage from Critical Strikes

The turtle's shell one day becomes its tomb.
Boss video
Items found in this area
Item
The Gambler

The Gambler

5

Divination Card

"I don't believe in karma. If it were real, I would never win."

1
The Encroaching Darkness

The Encroaching Darkness

8

Map
Corrupted

No matter where your dreams take you, Nightmare follows close behind.

1
Lingering Remnants

Lingering Remnants

16

Vaal Temple Map


Item Level:

83


CorruptedNever dying, yet not living,
Endlessly they wander
beneath the harvest moon.
1
The Ruthless Ceinture

The Ruthless Ceinture

7

Meginord's Girdle
CorruptedIn combat, a warrior must first be resourceful,
and second, decisive.
1
Item acquisition
Upgrade paths
This item can be acquired through the following upgrade paths or vendor recipes:

Amount
Ingredient
General
Notes
Type
4
Left to Fate

Left to Fate

4

Map


Map Tier:

16


Unidentified CorruptedMany strive for greatness,
but it is challenge, unforseen,
that forges heroes.
random unidentified corrupted tier 16 map
Automatic
4
Boundless Realms

Boundless Realms

4

Map

Boundless is the distance between where we start and where we start again.

random map
Automatic
6
The Explorer

The Explorer

6

Map
Corrupted

A map is only useful if you know where you stand.

random corrupted map
Automatic
1
The Void

The Void

1

Reach into the Void and claim your prize.

random divination card set exchange
Automatic
Unique versions
There are currently no unique items for this base item type.
Legacy variants
Maze of the Minotaur Map has legacy variants.
On top of map series, the legacy versions have the following changes:
| Version Discontinued | Modifiers |
| --- | --- |
| 3.9.0 | Area is influenced by The Shaper |
There is a vendor recipe that convert legacy map to current map series. So there is a chance that the map is in the current map series (Ritual), but missing the aforementioned implicit.
Version history
Version
Changes
3.9.1

Zana Atlas Objectives can now offer Shaper Guardian Maps as options as long as you are in a Tier15+ Map.

3.9.0

The Atlas of Worlds has been reworked. You now start at the centre and will work your way outwards as you explore a new storyline.
The Shaper and Elder storyline is gone and has been replaced by a story that takes place in the aftermath of the old story.

The Elder, Shaper, and combined Elder and Shaper encounters can still be accessed. If you're lucky, Zana may offer a Shaper or Elder guardian's map!

3.5.0

The Atlas of Worlds has been shuffled. Most maps have changed tier and location within the Atlas.

3.1.0

The entire Atlas has been reworked. Many map names have changed, as have their balance, tier and position on the Atlas. Many maps have also had their boss fights swapped or completely reworked.
The rules used to generate monsters in endgame maps have been significantly reworked and rebalanced around the rate at which we expect players to reliably clear out the map. In general, narrow, linear maps will contain fewer total monsters than maps with complex layouts. We will be closely monitoring and adjusting the balance of this change and expect to make further changes and improvements over time.

2.4.0