Megaera is a unique Cannibal located in
Crater MapCrater MapMap Level: 69
Map Tier: 2
Guild Character: DSo much power in the hands of so few.Travel to this Map by using it in a personal Map Device. Maps can only be used once.
. She is based on Fire Fury. Her damage is very high for her tier of map - high fire resistance is recommended.
Abilities
Casts Firestorm

Firestorm

Spell, AoE, Duration, Fire
Level: (1-20)
Cost: (13-25) Mana
Soul Gain Prevention: 0 sec
Cast Time: 0.75 sec
Critical Strike Chance: 6.00%
Effectiveness of Added Damage: 55%Requires Level 28

Flaming bolts rain down over the targeted area. They explode when landing, dealing damage to nearby enemies.

Per 1% Quality:1

Superior

2

Anomalous

3

Divergent

1% increased Damage

First Impact deals 3% more Damage with Hits and Ailments
Base duration is 0.003 seconds

1% reduced Enemy Stun Threshold

Base duration is 1.4 seconds
Deals (22-207) to (33-311) Fire Damage
One impact every 0.2 seconds
First Impact deals 325% more Damage with Hits and Ailments
First Impact has 100% more Area of Effect
Maximum 3 Firestorms at a time

Place into an item socket of the right colour to gain this skill. Right click to remove from a socket.

Casts Fire Trap

Fire Trap

Trap, Spell, Duration, AoE, Fire
Level: (1-20)
Cost: (8-20) Mana
Cast Time: 1.00 sec
Critical Strike Chance: 6.00%
Effectiveness of Added Damage: 200%
Radius: 15Requires Level 12

Throws a trap that explodes when triggered, dealing fire damage to surrounding enemies and leaving an area of burning ground that damages enemies who walk through it.

Per 1% Quality:1

Superior

2

Anomalous

3

Divergent

1% increased Fire Damage

1% increased Skill Effect Duration

3% chance to Ignite enemies
1% less Area of EffectTrap lasts 4 seconds
Base duration is 1.75 seconds
Deals (11-644) to (17-966) Fire Damage
Deals (32.5-1832.8) Base Fire Damage per second
(4-201) to (5-302) added Fire Damage against Burning Enemies
Modifiers to Spell Damage apply to this Skill's Damage Over Time effect
+(0-8) to radius

Place into an item socket of the right colour to gain this skill. Right click to remove from a socket.

explosion (legacy?)
Summon Skeleton
Resists Elemental
Resists Chaos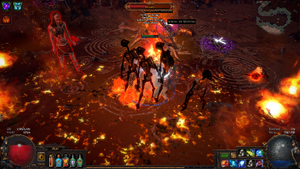 Version history
Version
Changes
3.5.0

The Atlas of Worlds has been shuffled. Most maps have changed tier and location within the Atlas.
Many map bosses have also shifted around. Some have been retired and replaced!
(undocumented) Moved from Cells Map

Cells Map

Map Level: 70
Map Tier: 3
Guild Character: Ú

Travel to this Map by using it in the Templar Laboratory or a personal Map Device. Maps can only be used once.

to Crater Map

Crater Map

Map Level: 71
Map Tier: 4
Guild Character: D

So much power in the hands of so few.

Travel to this Map by using it in the Templar Laboratory or a personal Map Device. Maps can only be used once.

Unknown
0.10.8b

Megaera, the boss of the Crematorium

Lava Chamber Map

Map Level: 76
Map Tier: 11
Guild Character: /

Travel to this Map by using it in the Templar Laboratory or a personal Map Device. Maps can only be used once.

map, has been redesigned with new stats, skills and AI.

Unknown