Mutewind Cache
Strongbox
Guarded by 3 packs of Monsters
(80 to 100)% increased Quantity of Contained Items
+(3 to 5) Chest level
Guarded by a Mutewind Warband
Contains an additional Mutewind Unique Item
Little make it across the dry plains to the foot of the mountain alive.
The mountain dwellers ensure nothing reaches the top.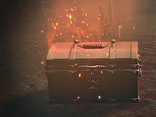 Mutewind Cache is a unique Strongbox. It is guarded by a Mutewind Warband.
List of Mutewind unique items
Mutewind PennantMutewind Pennant
Enameled BucklerQuality: +20%
Chance to Block: 24%
Evasion: (554-609)
Movement Speed: -3%Requires Level 42, 103 Dex6% increased Movement Speed(80-100)% increased Evasion Rating
+(20-40)% to Cold Resistance
10% increased Area of Effect
Gain Onslaught for 4 seconds when you Warcry
25% increased Warcry Buff Effect
Call to Arms

Embrace the snow or be buried.

Mutewind SealMutewind Seal
Unset RingRequires Level 44Has 1 SocketSocketed Golem Skills have 20% increased Attack and Cast Speed
Gain Onslaught for 10 seconds when you Cast Socketed Golem Skill
+3 to Level of Socketed Golem Gems
Adds (5-10) to (11-15) Physical Damage to Attacks
(5-10)% increased Attack Speed
(3-5)% chance to Dodge Attack HitsWhen a fallen leader's body is taken to the funeral peak,
those who seek power must ascend together.
One returns with the seal.
The rest do not return at all.
Mutewind WhisperstepsMutewind Whispersteps
Serpentscale BootsQuality: +20%
Armour: 91
Evasion: (167-205)Requires Level 42, 40 Str, 40 DexAdds (25-30) to (40-50) Cold Damage to Spells
(50-70)% increased Critical Strike Chance for Spells
(100-150)% increased Evasion Rating
+(20-30)% to Cold Resistance
25% increased Movement Speed
Unaffected by Chilled GroundCorruption sweeps across this land,
but our bloodline is clear.
It is our duty to keep it so.
Version history
| Version | Changes |
| --- | --- |
| 2.3.0 | |