Necropolis MapMap Level: 79
Map Tier: 12
Guild Character: °Travel to this Map by using it in the Templar Laboratory or a personal Map Device. Maps can only be used once.
Acquisition
Area level: 79
DROP DISABLEDVendor Offer
1x Scroll FragmentMetadata
Item class: Maps
Metadata ID: Metadata/Items/Maps/MapWorldsNecropolis
Even in death, we long to be close to one another.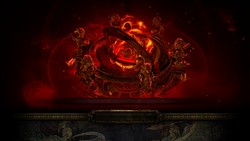 Necropolis Map (War for the Atlas) is a map area.
Layout
The Necropolis tileset is based upon The Crypt in both Acts 2 and 7. This map often requires backtracking due to the convoluted hallways and passages. The Boss Arena is unlocked when clicking on a particular sarcophagus.
Map Layout: Indoors
Encounters
Boss
Burtok, Conjurer of Bones, a unique Giant Bonestalker
Creates a circular arena of bones around you at range, similar to Vaal Glacial Hammer

Vaal Glacial Hammer

Vaal, Attack, Melee, Strike, Duration, AoE, Cold
Level: (1-20)
Souls Per Use: 15
Can Store 3 Use(s)
Attack Damage: (155-200)% of base
Effectiveness of Added Damage: (155-200)%

Hits enemies, converting some of your physical damage to cold damage. It traps enemies with you in a circle of ice so that they can't escape. Requires a Mace, Sceptre or Staff.

Per 1% Quality:1

Superior

2% increased Duration of Cold Ailments

Deals (155-200)% of Base Attack Damage
60% of Physical Damage Converted to Cold Damage
25% chance to Freeze enemies
35% increased Duration of Cold Ailments
Base duration is (3.4-4.35) seconds
Adds (2-75) to (3-113) Cold Damage against Chilled Enemies
(10-29)% increased Effect of Cold Ailments
Freezes enemies as though dealing (200-390)% more Damage
+(2-4) to Melee Strike Range
Can't be Evaded
Modifiers to Skill Effect Duration also apply to this Skill's Soul Gain Prevention
Corrupted

Place into an item socket of the right colour to gain this skill. Right click to remove from a socket.

.
Spawns Bonespire Talisman

Bonespire Talisman

Talisman Tier: 1(20-30)% increased maximum ManaCorruptedThe civilised man must wrestle
with the demands of heart and mind.
The First Ones share no such struggle.
For their Spirit is swift and deadly certain.
- The Wolven King
effect at the location of the above arena. Casts a short time after using the above skill.
Spectral Throw with multiple projectiles
Boss video
Items found in this area
Item
The Gambler

The Gambler

5

Divination Card

"I don't believe in karma. If it were real, I would never win."

1
The Encroaching Darkness

The Encroaching Darkness

8

Map
Corrupted

No matter where your dreams take you, Nightmare follows close behind.

1
Grave Knowledge

Grave Knowledge

6

Summon Raging Spirit


Quality:

+20%

The dead tell me great insights. They've had nothing but time to sit and think.

1
Her Mask

Her Mask

4

Sacrifice FragmentTo her beauty you submit,
lest your neck the great Queen slit.
1
The Wretched

The Wretched

6

Belt

Necromancers, believe me, are more terrifying than their thralls.

1
Lingering Remnants

Lingering Remnants

16

Vaal Temple Map


Item Level:

83


CorruptedNever dying, yet not living,
Endlessly they wander
beneath the harvest moon.
1
Item acquisition
This item is drop disabled.
Upgrade paths
This item can be acquired through the following upgrade paths or vendor recipes:

Amount
Ingredient
Type
3
Lair Map

Lair Map

Map Level: 78
Map Tier: 11
Guild Character: ,

Travel to this Map by using it in the Templar Laboratory or a personal Map Device. Maps can only be used once.

Manual
3
Shaped Thicket Map

Shaped Thicket Map

Map Level: 78
Map Tier: 11
Guild Character: R

Travel to this Map by using it in the Templar Laboratory or a personal Map Device. Maps can only be used once.

Manual
Usage in upgrade paths
This item is used by upgrade paths or vendor recipes to create the following items:

Outcome
Amount
Ingredient
Type
Arsenal Map

Arsenal Map

Map Level: 80
Map Tier: 13
Guild Character: é

Travel to this Map by using it in the Templar Laboratory or a personal Map Device. Maps can only be used once.

3
Necropolis Map

Necropolis Map

Map Level: 79
Map Tier: 12
Guild Character: °

Travel to this Map by using it in the Templar Laboratory or a personal Map Device. Maps can only be used once.

Manual
Unique versions
Item
Death and TaxesDeath and Taxes
Necropolis MapMap Level: 79
Map Tier: 12
Guild Character: ¿
Item Quantity: +150%Unique Boss deals (30-35)% increased Damage
Unique Boss has (25-30)% increased Attack and Cast Speed
Unique Boss gives 20000% increased ExperienceSo the raiders danced,
leading their foe ever west,
towards certain death.

Travel to this Map by using it in the Templar Laboratory or a personal Map Device. Maps can only be used once.

1
Other versions
Version history
Version
Changes
3.6.0

Synthesis map series was introduced

3.5.0

The Atlas of Worlds has been shuffled. Most maps have changed tier and location within the Atlas.
Many map bosses have also shifted around. Some have been retired and replaced!
(undocumented) The name of the new map series was Betrayal

3.1.0

The entire Atlas has been reworked. Many map names have changed, as have their balance, tier and position on the Atlas. Many maps have also had their boss fights swapped or completely reworked.
The rules used to generate monsters in endgame maps have been significantly reworked and rebalanced around the rate at which we expect players to reliably clear out the map. In general, narrow, linear maps will contain fewer total monsters than maps with complex layouts. We will be closely monitoring and adjusting the balance of this change and expect to make further changes and improvements over time.

2.4.0
2.0.0
0.9.11