New Vastir is a Atlas region located in the outside bottom left of the Atlas of Worlds.
Atlas passive skills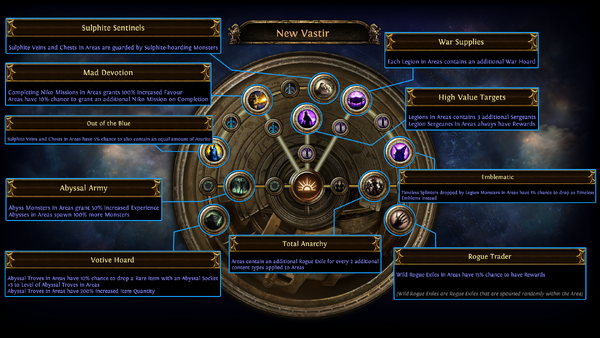 The New Vastir Atlas Passive Skill Tree allows players to increase specific types of drops, enemies, and map events within this region. Players can allocate ten points in this region, earned by completing The Maven's challenges, and skill tree allocations can be refunded with an
Orb of UnmakingOrb of UnmakingStack Size: 40Grants an atlas passive skill refund pointRight click on this item to use it.
Shift click to unstack.
.
Abyss Skilltree:
Abyssal Army: Abyss Monsters in Areas grant 50% increased Experience. Abysses in Areas spawn 100% more Monsters
Votive Hoard: Abyssal Troves in Areas have 20% chance to drop a Rare Item with an Abyssal Socket. Abyssal Troves in Areas have 200% increased Item Quantity
Delve Skilltree:
Mad Devotion: Completing Niko Missions in Areas grants 100% increased Favour. Areas have 10% chance to grant an additional Niko Mission on Completion
Out of the Blue: Sulphite Veins and Chests in Areas have 20% chance to also contain an equal amount of Azurite
Sulphite Sentinels: Sulphite Veins and Chests in Areas are guarded by Sulphite-hoarding Monsters (more dangerous but more rewarding monsters)
Legion Skilltree:
War Supplies: Each Legion in Areas contains an additional War Hoard
Emblematic: Timeless Splinters dropped by Legion Monsters in Areas have 1% chance to drop as Timeless Emblems instead
Proacted Battle: Legion Encounters in Areas have 50% increased Duration. Legion Monsters in Areas take 50% increased Damage while in Stasis
Anarchy Skilltree:
Total Anarchy: Areas have a 10% chance to contain 20 additional Rogue Exiles
Rogue Trader: Wild Rogue Exiles in Areas have 50% chance to have Rewards. It also causes them to have 200% increased Maximum Life. (Wild Rogue Exiles are Rogue Exiles that are spawned randomly within the Area)
Atlas base item types
The following base item types can be found in this region:
Atlas Region
White maps (T1-T5)
Yellow maps (T6-T10)
Red maps (T11+)
New Vastir
Apothecary's Gloves

Apothecary's Gloves

Armour: 108
Energy Shield: 27Requires Level 70, 46 Str, 58 Int

(14–18)% increased Damage over Time


Blue Pearl Amulet

Blue Pearl Amulet

Requires Level 77(48-56)% increased Mana Regeneration Rate
Apothecary's Gloves

Apothecary's Gloves

Armour: 108
Energy Shield: 27Requires Level 70, 46 Str, 58 Int

(14–18)% increased Damage over Time


Blue Pearl Amulet

Blue Pearl Amulet

Requires Level 77(48-56)% increased Mana Regeneration Rate
Vermillion Ring

Vermillion Ring

Requires Level 80(5-7)% increased maximum Life
Apothecary's Gloves

Apothecary's Gloves

Armour: 108
Energy Shield: 27Requires Level 70, 46 Str, 58 Int

(14–18)% increased Damage over Time


Blue Pearl Amulet

Blue Pearl Amulet

Requires Level 77(48-56)% increased Mana Regeneration Rate
Vermillion Ring

Vermillion Ring

Requires Level 80(5-7)% increased maximum Life
Maps located within this region
Item
Map
Tier
Atlas map tier
based on region
Atlas map level
based on region
Shrine Map

Shrine Map

Map Level: 72
Map Tier: 5
Guild Character: è

Black tiles don't stain so easily.

Travel to this Map by using it in a personal Map Device. Maps can only be used once.

5
5
9
12
14
16
72
76
79
81
83
Siege Map

Siege Map

Map Level: 79
Map Tier: 12
Guild Character: u

No rest, no peace, no negotiation. Only War.

Travel to this Map by using it in a personal Map Device. Maps can only be used once.

12
✗
✗
12
14
16
✗
✗
79
81
83
Vault Map

Vault Map

Map Level: 82
Map Tier: 15
Guild Character: )

Wealth beyond imagining, locked beyond reach.

Travel to this Map by using it in a personal Map Device. Maps can only be used once.

15
✗
✗
✗
✗
15
✗
✗
✗
✗
82
Version history
Version
Changes
3.14.0

Atlas passive skill tree changes:

High Value Targets has been moved to Glennach Cairns.
Protracted Battle has been added (previously in Glennach Cairns).
Votive Hoard now has a 20% chance for Abyssal Troves in Areas to drop a Rare Item with an Abyssal Socket (previously 10%). It no longer increases the Level of Abyssal Troves.
Sulphite-hoarding Monsters spawned by Sulphite Sentinels are now more dangerous but more rewarding.
Out of the Blue now has a 20% chance for Sulphite Veins and Chests in Areas to also contain an equal amount of Azurite (previously 5%).
Total Anarchy now causes Areas to have a 10% chance to contain 20 additional Rogue Exiles (previously added 1 Rogue Exile per 2 additional content types applied to Areas).
Rogue Trader now has a 50% chance for Wild Rogue Exiles to have additional rewards (previously 15%). However, it now causes them to have 200% increased Maximum Life.

3.13.0
3.9.0