Oba's Cursed Trove
Primordial Blocks Map
Map Level: 78
Map Tier: 11
Guild Character: #
Item Quantity: +40%
Area has patches of desecrated ground
20 patches with Ground Effect per 100 tiles (Hidden)
Ground Effect has a radius of 10 (Hidden)
(40-50)% more Monster Life
(30-40)% increased Monster Damage
Area becomes fatal after some time
"Here the soil is more deadly than any swing of the axe."
- Oba of the Karui, Conqueror of Corruption.
Travel to this Map by using it in the Templar Laboratory or a personal Map Device. Maps can only be used once.
Acquisition
DROP DISABLED
Vendor Prices
Vendor Offer
6x Alchemy Shard
Metadata
Item class: Maps
Oba's Cursed Trove
Map area, Unique Map area
| | |
| --- | --- |
| Id | MapAtlasTortureChamberUnique |
| Act | 11 |
| Area level | 78 |
| Bosses | Shock and Horror |
| Area type tags | dungeon |
| Tags | indoors_area, unique_map, map, limited_tempests, no_boss, ambush_leaguestone, domination_leaguestone, perandus_leaguestone, essence_leaguestone, breach_leaguestone |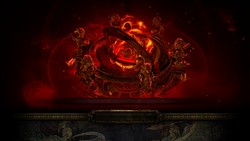 Oba's Cursed Trove is a unique
Primordial Blocks MapPrimordial Blocks MapMap Level: 78
Map Tier: 11
Guild Character: ŸTravel to this Map by using it in the Templar Laboratory or a personal Map Device. Maps can only be used once.
(formerly known as Torture Chamber Map).
This map is divided into six levels, with the first two using the Submerged Passage tileset, the 3rd and 4th using the Crypt tileset, and the last two the Chamber tileset. In order to proceed to the next level, the player must kill all monsters in the current level. Additionally, monster level increases by 1 each time the player enters a new area. The levels range from 78 in the first area to 83 in the last. Each level contains monsters, except for the last room, where the player will find five Strongboxes of itemlevel 83.
The last room contains no map boss, but each strongbox releases several packs of monsters when opened.
Area becomes fatal after some time: the player is instantly killed if failing to kill all monsters in the first five levels within 9 minutes when alone, or 6 minutes when entering as a group. (The timer starts as soon as you enter the map). Oba will start a countdown 10 seconds before this mod takes effect. The player also receives four warnings at set intervals:

The Nightmare has your scent. Now it hungers for your flesh. (25%, so at 2:15 / 1:30)
Is your cup half empty or half full, Exile? (50%, so at 4:30 / 3:00)
Disappointing. It seems corruption will get the better of you after all. (75%, so at 6:45 / 4:30)
The corruption is growing. Hurry now, before it consumes you as it did me. (100%, so at 9:00 / 6:00, initiates the 10-second countdown)
After killing the last monster, Oba says: Haha! You are a mighty adventurer indeed. Use what I have given you and spread my legacy throughout all of Wraeclast.
The player is then no longer on the clock and is free to open the strongboxes or backtrack the map at his or her leisure.

Map type: Indoors
Map Video: Oba's Cursed Trove
Items found in this area
Item
The Gambler

The Gambler

5

Divination Card

"I don't believe in karma. If it were real, I would never win."

1
The Encroaching Darkness

The Encroaching Darkness

8

Map
Corrupted

No matter where your dreams take you, Nightmare follows close behind.

1
Lingering Remnants

Lingering Remnants

16

Vaal Temple Map


Item Level:

83


CorruptedNever dying, yet not living,
Endlessly they wander
beneath the harvest moon.
1
Item acquisition
This item is drop disabled.
Legacy variants
Oba's Cursed Trove has legacy variants.
Version Discontinued
Base Item
Modifiers
2.4.0
Temple Map
Map Level: 74

Area has patches of Desecrated Ground
(40 to 50)% increased Monster Life
(30 to 40)% increased Monster Damage
Area becomes fatal after some time

2.0.0
Temple Map
Map Level: 72

Area has patches of Desecrated Ground
(40 to 50)% increased Monster Life
(30 to 40)% increased Monster Damage
Area becomes fatal after some time
Version history
Version
Changes
2.2.2

Fixed a bug where the correct monster level would not display in Oba's Cursed Trove after portaling away and coming back again.
Fixed a bug where Oba's Cursed Trove would not drop maps of Tier 9 and above in the higher level sections of the map.

1.2.3