Oba's Prized Cache
Jeweller's Strongbox
Guarded by 3 packs of Monsters
Contains (3 to 4) additional Rare Item
Contains (3 to 4) additional Magic Item
The objects Oba valued more than his life.
Sealed from the corruption that ultimately took it.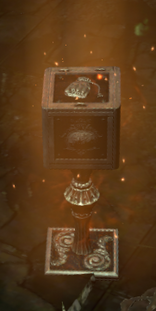 Oba's Glittering Stash is a unique Jeweller's Strongbox that can be obtained from
Oba's Cursed TroveOba's Cursed Trove
Underground Sea MapMap Level: 69
Map Tier: 2
Item Quantity: +40%Area has patches of desecrated ground
20 patches with Ground Effect per 100 tiles (Hidden)
Ground Effect has a radius of 10 (Hidden)
(40-50)% more Monster Life
(30-40)% increased Monster Damage
Area becomes fatal after some time"Here the soil is more deadly than any swing of the axe."
- Oba of the Karui, Conqueror of Corruption.Travel to this Map by using it in a personal Map Device. Maps can only be used once.
.
Version history
| Version | Changes |
| --- | --- |
| 1.2.3 | |