A new dawn rises on ruined stone. Hand in hand, those that remain toil for a better world.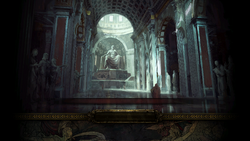 Oriath is the town for Epilogue and is connected to The Templar Laboratory. Like all towns, it has a Stash/Guild Stash, Noticeboard, Event Noticeboard, and Waypoint.
During the Awakening of the Atlas, Oriath has been destroyed by Sirus, Awakener of Worlds who tried to cleanse it's citizens.
NPCs
Quests
Gallery
Version history