A final refuge, backed hard against the waves of a raging sea.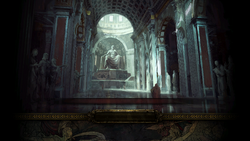 Oriath Docks is the town for Act 10 and is connected to The Rotting Core and The Cathedral Rooftop. Like all towns, it has a Stash/Guild Stash, Noticeboard, Event noticeboard and Waypoint.
NPCs
Quests
Items found in this area
There are currently no items that have a drop table specific to this area.
Version history
| Version | Changes |
| --- | --- |
| 3.0.0 | |