Overgrown Hideout
Hideout area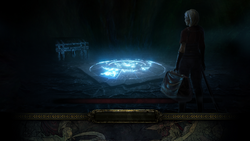 Overgrown Hideout is the hideout of Leo, Master of the Arena. It uses the Garden tileset.
The waypoint and starting area are in a grassy garden area, with a smaller balcony area overlooking a body of water. The medium extension gives a set of stairs up to a similar area. The large extension gives some stairs up from the 2nd area to a further small raised area.
Unlocking
Overgrown Hideout can be found in
Orchard MapOrchard MapMap Level: 70
Map Tier: 3
Guild Character: <The fruit that grows from bloody ground tastes sweetest.Travel to this Map by using it in a personal Map Device. Maps can only be used once.
.