Painseeker
Shagreen Gloves
Quality: +20%
Evasion: (318-424)
Requires Level 54, 78 Dex
Adds (16-19) to (25-29) Fire Damage
Adds (16-19) to (25-29) Cold Damage
Adds (6-10) to (33-38) Lightning Damage
(60-120)% increased Evasion Rating
Critical Strikes do not inherently apply non-Damaging Ailments
Inflict non-Damaging Ailments as though dealing (100-200)% more Damage
Lay bare paths to pain you never knew you had.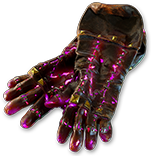 Vendor Prices
Vendor Offer
20x Alchemy Shard
3x Alteration Shard
Metadata
Item class: Gloves
Painseeker is a pair of unique
Shagreen GlovesShagreen GlovesEvasion: 177Requires Level 54, 78 Dex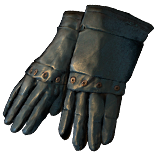 .
Modifiers
Critical Strikes do not inherently apply non-Damaging Ailments – With Painseeker equipped, critical strikes do not inherently have a 100% chance to inflict non-damaging ailments: chill, freeze, shock, scorch, brittle, and sap.
Item acquisition
Upgrade paths
This item can be acquired through the following upgrade paths or vendor recipes:

Amount
Ingredient
General
Notes
Type
5
Mitts

Mitts

5

Gloves

Those whose hands are their livelihood know the importance of keeping them safe and warm.

random gloves
Automatic
7
Prejudice

Prejudice

7

Item


Influenced ItemOne who is blinded by their past may
only see a sliver of the present.
random influenced item
Automatic
8
Arrogance of the Vaal

Arrogance of the Vaal

8

Item


Two-Implicit


Corrupted

Discovery can lead to beauty, or it can lead to ruin.

random two-implicit corrupted item
Automatic
4
Jack in the Box

Jack in the Box

4

ItemTurn the crank,
close your eyes,
and pray to the gods
for a pleasant surprise.
random item
Automatic
1
Singular Incubator

Singular Incubator

Adds an incubated Unique item to an equippable item
Item drops after killing # monsters

Unique Item

Right click this item then left click an item to apply it. The Incubated item drops after killing a specific number of monsters.

random item
Automatic
1
The Void

The Void

1

Reach into the Void and claim your prize.

random divination card set exchange
Automatic
Version history
| Version | Changes |
| --- | --- |
| 3.14.0 | Shaper Guardian, Elder Guardian and Elderslayer unique items are moved to core drop table.[1] |
| 3.9.0 | |
References