This article describes new Path of Exile content coming in

version 4.0.0

. Information may be missing or incorrect.
Please expand this article so that it provides complete and accurate information.
Lua error: Error 1525: Incorrect DATETIME value: (geo-db-i-master.query.consul.) Function: CargoSQLQuery::run Query: SELECT COUNT(DISTINCT `cargo__events`.`_pageName`) AS `COUNT(DISTINCT events._pageName)` FROM `cargo__events` WHERE `cargo__events`.`type` = "Expansion" AND `cargo__events`.`release_date` < "" ORDER BY COUNT(DISTINCT `cargo__events`.`_pageName`) LIMIT 5000 .
Path of Exile 2 (initially referred to as Path of Exile 4.0) is an upcoming expansion for Path of Exile. It was officially announced by Grinding Gear Games on November 15, 2019, during ExileCon[1]. GGG didn't have a release date for Path of Exile 2 yet, but it was said to be unlikely to enter a Beta phase until at least very late 2020. The expansion was later delayed to a 2022 release.
Path of Exile 2 will introduce a completely new campaign storyline, consisting of seven acts, and an overhaul of many of the game's core systems. The skill gem system will be drastically changed, removing gem sockets from equipment and moving them to active skill gems instead. Other additions include a major visual rework with physics-based rendering, and an unannounced rework of the passive skill tree, and 19 new Ascendancy classes. Already owned microtransactions will still be available. Lastly, both Path of Exile and Path of Exile 2 shared the same end game Atlas system.
Overhauls
20 years have gone since the death of Kitava. Society has been slowly rebuilding and with that ambitious men rise to fill the void and their thirst for power is once again corrupting Wraeclast.
Characters
The character models have been reworked.
Ascendancy classes
Path of Exile 2 will add 19 additional ascendancy classes to the game. The new classes will initially be exclusive to the new storyline, but once unlocked they can be accessed in Path of Exile 1 as well.
The new ascendancy classes will not be available through the labyrinths, but through other means in the new campaign.
Skills granted by ascendancy classes will now scale based on the character's level rather than be at a specific level. [2]
Skill gems & sockets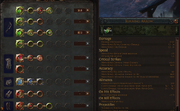 Sockets will be reworked; skill gems will receive a variable amount of sockets and can have up to 6 sockets like items did previously and items will get a fixed amount of primary sockets based on their item class rather then a randomized amount. Skill gems can be found with varying amount of sockets and the sockets can be rerolled with
Jeweller's OrbJeweller's OrbStack Size: 20Reforges the number of sockets on an itemRight click this item then left click a socketed item to apply it. The item's quality increases the chances of obtaining more sockets.
Shift click to unstack.

and
Chromatic OrbChromatic OrbStack Size: 20Reforges the colour of sockets on an itemRight click this item then left click a socketed item to apply it.
Shift click to unstack.
; unlike previously, those sockets are always linked, so
Orb of FusingOrb of FusingStack Size: 20Reforges the links between sockets on an itemRight click this item then left click a socketed item to apply it. The item's quality increases the chances of obtaining more links.
Shift click to unstack.
will become obsolete and will be mitigated.
Similar to the current sockets, the amount of sockets possible on an skill gem will depend on the item level:[3]
| Sockets | Item Level |
| --- | --- |
| 2 | 1 |
| 3 | 20 |
| 4 | 35 |
| 5 | 50 |
Players will also be given the option to sacrifice a skill gem and transfer its experience points and level onto an identical skill gem. This feature is useful if you find a skill gem of the same skill you have been using and have more sockets available.
Support gems can be socketed into active skill gems. In addition to account for single support gems supporting multiple active skill gems, meta-skill gems will also be introduced where the reverse is true: these are gems that go into the primary sockets and can have active skill gems socketed into them. For example, the Proficiency skill gem allows socketing auras into them as well as support gems. It will reduce the mana cost of any socketed gems and since it is a skill gem itself, it can also be cast to toggle all socketed auras at the same time. [4]
Items will have a fixed number of sockets based on their item class:
This means a total of 9 sockets for primary skill gems are available.
Primary sockets are still coloured based on the primary attribute associated with the item. This means strength bases have red sockets, intelligence bases have blue sockets and dexterity bases have green sockets. Hybrid items have hybrid primary sockets accordingly, so for example a strength/dexterity hybrid will have a red/green hybrid socket. In late game (maps) there will be a currency item available to change the colour of primary sockets.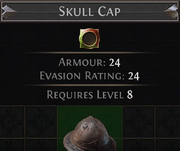 Certain items like items (for example
Tabula RasaTabula Rasa
Simple RobeQuality: +20%
Movement Speed: -3%Item has no level requirement and Energy Shield (Hidden)
Item has 6 White Sockets and is fully linked (Hidden)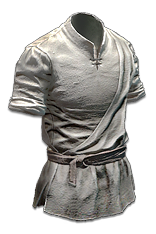 ) may add additional primary sockets.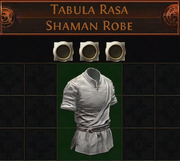 Items that add skills will add a skill to the skill screen where the skill can be socketed separately. The number of sockets on these skills can be rerolled.
Abyss sockets will remain unaffected by those changes and remain on the gear. [5]
Videos/Overview
References