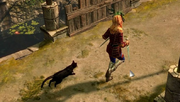 Pets are cosmetic items applied to the character. They summon creatures that follow the character around, but do not participate in combat. The character can have up to two pets following at once. Pets can also be released in a player's hideout where they will roam around freely.
Most pets can be purchased via microtransactions or are included with supporter packs. Some are obtained exclusively by completing a certain number of challenges in a challenge league.
List of pets
The following is a list of pets.
Version history
| Version | Changes |
| --- | --- |
| 3.11.0 | The behaviour of pets playing their animations while deployed as a hideout decoration have been improved. |