Pier Map
Map Level: 70
Map Tier: 3
Guild Character: z
Man's reach extends into
the ocean, clawing at
its infinite depths.
Travel to this Map by using it in a personal Map Device. Maps can only be used once.
Acquisition
Level: 69
Vendor Prices
Vendor Offer
1x Scroll Fragment
Miscellaneous
Item class: Maps
| | |
| --- | --- |
| Id | MapWorldsPier |
| Act | 11 |
| Area level | 77 |
| Bosses | Ancient Architect |
| Area type tags | urban |
| Tags | map, area_with_water, einharmaps, dock_area, map_area_with_open_water |
| | The Shaper: Man's reach extends into the ocean, clawing at its infinite depths. |
Man's reach extends into

the ocean, clawing at

its infinite depths.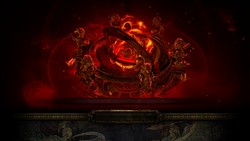 Layout
Encounters
Boss
Boss video
Items found in this area
Item
Lucky Connections

Lucky Connections

7

20x Orb of Fusing

Luck is a fool's game, and I know plenty of rich fools.

1
The Gambler

The Gambler

5

Divination Card

"I don't believe in karma. If it were real, I would never win."

1
The Pact

The Pact

9

Pledge of Hands

"On this day I mark the first of many agreements that I will have with this land and its people."

1
The Encroaching Darkness

The Encroaching Darkness

8

Map
Corrupted

No matter where your dreams take you, Nightmare follows close behind.

1
The Trial

The Trial

7

Map


Map Tier:

15


Corrupted

You cannot journey to new lands until you have the courage to leave the safety of home.

1
Her Mask

Her Mask

4

Sacrifice FragmentTo her beauty you submit,
lest your neck the great Queen slit.
1
Item acquisition
Upgrade paths
This item can be acquired through the following upgrade paths or vendor recipes:

Amount
Ingredient
General
Notes
Type
4
Boundless Realms

Boundless Realms

4

Map

Boundless is the distance between where we start and where we start again.

random map
Automatic
6
The Explorer

The Explorer

6

Map
Corrupted

A map is only useful if you know where you stand.

random corrupted map
Automatic
1
The Void

The Void

1

Reach into the Void and claim your prize.

random divination card set exchange
Automatic
Unique versions
There are currently no unique items for this base item type.
Version history
Version
Changes
3.5.0

The Atlas of Worlds has been shuffled. Most maps have changed tier and location within the Atlas.
Many map bosses have also shifted around. Some have been retired and replaced!

3.1.0

The entire Atlas has been reworked. Many map names have changed, as have their balance, tier and position on the Atlas. Many maps have also had their boss fights swapped or completely reworked.
The rules used to generate monsters in endgame maps have been significantly reworked and rebalanced around the rate at which we expect players to reliably clear out the map. In general, narrow, linear maps will contain fewer total monsters than maps with complex layouts. We will be closely monitoring and adjusting the balance of this change and expect to make further changes and improvements over time.

2.4.0e

Fixed various issues with the Ancient Architect in the Pier map, when it was twinned.
Fixed an issue where the Ancient Architect in the Pier map was playing a teleport effect at the wrong location.

2.4.0
0.10.0

Start of open beta. Old map items were wiped from the server. Map progress was re-tiered. The map is now known as Pier Map with Flame of Truth as the map boss.

Before 0.10.0

Introduced to the game. (The actual release date is not known as not documented as GGG only announced that they released 45 maps in version 0.9.11 and unsure which map are new and which one are returning map in version 0.10.0. The icon of "Tomb Map" previewed in closed beta (source: Dev Diary) is the same as Pier Map. Probably GGG shuffled the map icon.)