Pit Map
Map Level: 72
Map Tier: 5
Guild Character: U
Travel to this Map by using it in the Templar Laboratory or a personal Map Device. Maps can only be used once.
Acquisition
Area level: 72


DROP DISABLED
Vendor Prices
Vendor Offer
1x Scroll Fragment
Metadata
Item class: Maps
Metadata ID: Metadata/Items/Maps/MapAtlasPit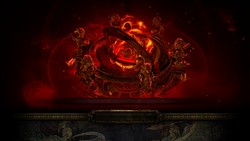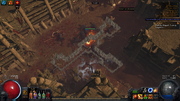 Map Type: Daresso's Dream
Boss Arena
Boss doesn't have an arena. He stands in the middle of one of the pits (accessible from two sides) with other monsters. The gate to that pit is easily recognizable - it closes upon entry and releases packs of Pitbull Demons, Pit Butchers, Talon Demons and Talon Archers. At least one of those packs will be magic. Gates open when all the monsters inside are killed. Boss can be lured out of the pit without entering to be killed separately.
Boss
Olof, Son of the Headsman - based on Barkhul.
Uses Cyclone

Cyclone

Attack, AoE, Movement, Channelling, Physical, Melee
Level: (1-20)
Cost: 2 Mana
Attack Speed: 300% of base
Attack Damage: (44-54)% of base
Effectiveness of Added Damage: (44-54)%Requires Level 28

Channel this skill to move towards a targeted location while spinning, building up stages while constantly attacking enemies in an area around you. While channelling this skill, you cannot be knocked back.

Per 1% Quality:1

Superior

2

Anomalous

3

Divergent

4

Phantasmal

0.5% increased Area of Effect

1% chance to Knock Enemies Back on hit

0.25% more Movement Speed

1% Chance to Avoid Interruption from Stuns While Using this Skill

Deals (44-54)% of Base Attack Damage
30% less Movement Speed
First Hit deals 50% less Damage
Gains 1 Stage every (0.33-0.17) seconds while Channelling
+1 to radius per Stage
Lose 1 Stage every 0.33 seconds while not Channelling
(5-28) to (8-42) Added Attack Physical Damage
Maximum (3-6) Stages
8% increased Area of Effect per 1 additional Melee Strike Range

Place into an item socket of the right colour to gain this skill. Right click to remove from a socket.

leaving burning ground
Uses fire sunder
Taunts (you deal less damage to other enemies)
Boss Video
Walkthrough
Item acquisition
This item is drop disabled.
Usage in upgrade paths
This item is used by upgrade paths or vendor recipes to create the following items:

Outcome
Amount
Ingredient
Type
Racecourse Map

Racecourse Map

Map Level: 73
Map Tier: 6
Guild Character: k

Travel to this Map by using it in the Templar Laboratory or a personal Map Device. Maps can only be used once.

3
Pit Map

Pit Map

Map Level: 72
Map Tier: 5
Guild Character: U

Travel to this Map by using it in the Templar Laboratory or a personal Map Device. Maps can only be used once.

Manual
Divination cards
The following divination cards can drop in this area:
Other versions
Version history
Version
Changes
3.5.0

The Atlas of Worlds has been shuffled. Most maps have changed tier and location within the Atlas.
Many map bosses have also shifted around. Some have been retired and replaced!

3.1.0

Added 32 new maps including two new Unique maps.
The entire Atlas has been reworked. Many map names have changed, as have their balance, tier and position on the Atlas. Many maps have also had their boss fights swapped or completely reworked.
The rules used to generate monsters in endgame maps have been significantly reworked and rebalanced around the rate at which we expect players to reliably clear out the map. In general, narrow, linear maps will contain fewer total monsters than maps with complex layouts. We will be closely monitoring and adjusting the balance of this change and expect to make further changes and improvements over time.

2.0.0