Pit of the Chimera Map
Map Level: 83
Map Tier: 16
Guild Character: Â
Area is influenced by The Shaper
Travel to this Map by using it in a personal Map Device. Maps can only be used once.
Acquisition
Level: 82
Vendor Prices
Vendor Offer
1x Scroll Fragment
Miscellaneous
Item class: Maps
Pit of the Chimera
Map area
| | |
| --- | --- |
| Id | MapWorldsChimera |
| Act | 11 |
| Area level | 83 |
| Bosses | Guardian of the Chimera |
| Area type tags | urban |
| Tags | map, no_echo, cannot_be_twinned, einharmaps, daresso_area, pitfight_area |
| | The Shaper: One of my captors hid a beast within his heart. Now his true self can be seen by all. |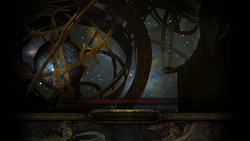 Pit of the Chimera Map is a map area.
Layout
Outdoors. Based on Daresso's Dream.
Encounters
Boss
The boss of this area always drops one
Fragment of the ChimeraFragment of the ChimeraItem Quantity: +5%5% increased Quantity of Items found in this AreaEnter the crucible. The nexus of
nothingness and equilibrium of eternity.Can be used in a personal Map Device.
and has a chance to drop one of the following unique items:
ObscurantisObscurantis
Lion PeltQuality: +20%
Evasion: (836-912)Requires Level 70, 150 Dex+(800-1000) to Accuracy Rating
(100-120)% increased Evasion Rating
+(50-80) to maximum Life
1% increased Projectile Attack Damage per 200 Accuracy Rating

If you know where to strike, you need only strike once.

The ScourgeThe Scourge
Terror ClawClaw
Quality: +20%
Physical Damage: (63.6-81.6) to (205.2-235.2)
Critical Strike Chance: 6.30%
Attacks per Second: (1.65-1.72)
Weapon Range: 11Requires Level 70, 113 Dex, 113 Int2% of Physical Attack Damage Leeched as LifeAdds (35-50) to (100-125) Physical Damage
(10-15)% increased Attack Speed
Minions have (10-15)% increased Attack Speed
Increases and Reductions to Minion Damage also affect you at 150% of their value
Minions deal 70% increased Damage if you've Hit RecentlyWith increasing mastery over death
comes an increasing desire for it.
Boss video
Items found in this area
Item
The Gladiator

The Gladiator

5

Nightmare BascinetThe thumb turns down
and the crowd roars,
they want death
and the blood is yours.
1
The Gambler

The Gambler

5

Divination Card

"I don't believe in karma. If it were real, I would never win."

1
The Encroaching Darkness

The Encroaching Darkness

8

Map
Corrupted

No matter where your dreams take you, Nightmare follows close behind.

1
The Dragon's Heart

The Dragon's Heart

11

Level 4 Empower
Corrupted

They say when a dragon dies, the flesh smoulders and burns until all that remains is the still, white-hot, heart.

1
Lingering Remnants

Lingering Remnants

16

Vaal Temple Map


Item Level:

83


CorruptedNever dying, yet not living,
Endlessly they wander
beneath the harvest moon.
1
Boon of the First Ones

Boon of the First Ones

6

Bestiary ItemWreathed in the skin and bones
of the beasts she slew,
her gift came from what she lost:
her humanity.
1
Item acquisition
Upgrade paths
This item can be acquired through the following upgrade paths or vendor recipes:

Amount
Ingredient
General
Notes
Type
4
Left to Fate

Left to Fate

4

Map


Map Tier:

16


Unidentified CorruptedMany strive for greatness,
but it is challenge, unforseen,
that forges heroes.
random unidentified corrupted tier 16 map
Automatic
4
Boundless Realms

Boundless Realms

4

Map

Boundless is the distance between where we start and where we start again.

random map
Automatic
6
The Explorer

The Explorer

6

Map
Corrupted

A map is only useful if you know where you stand.

random corrupted map
Automatic
1
The Void

The Void

1

Reach into the Void and claim your prize.

random divination card set exchange
Automatic
Unique versions
There are currently no unique items for this base item type.
Legacy variants
Pit of the Chimera Map has legacy variants.
On top of map series, the legacy versions have the following changes:
| Version Discontinued | Modifiers |
| --- | --- |
| 3.9.0 | Area is influenced by The Shaper |
There is a vendor recipe that convert legacy map to current map series. So there is a chance that the map is in the current map series (Ritual), but missing the aforementioned implicit.
Version history
Version
Changes
3.9.1

Zana Atlas Objectives can now offer Shaper Guardian Maps as options as long as you are in a Tier15+ Map.

3.9.0

The Shaper and Elder storyline is gone and has been replaced by a story that takes place in the aftermath of the old story.
The Elder, Shaper, and combined Elder and Shaper encounters can still be accessed. If you're lucky, Zana may offer a Shaper or Elder guardian's map!

3.5.0

The Atlas of Worlds has been shuffled. Most maps have changed tier and location within the Atlas.
Many map bosses have also shifted around. Some have been retired and replaced!

3.1.0

The entire Atlas has been reworked. Many map names have changed, as have their balance, tier and position on the Atlas. Many maps have also had their boss fights swapped or completely reworked.
The rules used to generate monsters in endgame maps have been significantly reworked and rebalanced around the rate at which we expect players to reliably clear out the map. In general, narrow, linear maps will contain fewer total monsters than maps with complex layouts. We will be closely monitoring and adjusting the balance of this change and expect to make further changes and improvements over time.

2.4.0