Plaza Map (Betrayal)
Plaza Map
Map Level: 77
Map Tier: 10
Guild Character: €
Drought took the plants, famine took the people.
Travel to this Map by using it in the Templar Laboratory or a personal Map Device. Maps can only be used once.
Acquisition
Level: 76
DROP DISABLED
Purchase Costs
Sell Price
1x Scroll Fragment
Miscellaneous
Item class: Maps
| | |
| --- | --- |
| Id | MapWorldsPlaza |
| Act | 11 |
| Area level | 81 |
| Bosses | The Goddess |
| Area type tags | forest, temple, swamp |
| Tags | map, no_echo, einharmaps |
| | The Shaper: Drought took the plants, famine took the people. |
Drought took the plants, famine took the people.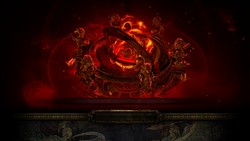 Layout
Encounters
Boss
The Goddess, based on The Goddess of Justice
Boss video
Items found in this area
Item
The Gambler

The Gambler

5

Divination Card

"I don't believe in karma. If it were real, I would never win."

1
The Encroaching Darkness

The Encroaching Darkness

8

Map
Corrupted

No matter where your dreams take you, Nightmare follows close behind.

1
Her Mask

Her Mask

4

Sacrifice FragmentTo her beauty you submit,
lest your neck the great Queen slit.
1
Fingerless Silk Gloves

Fingerless Silk Gloves

Energy Shield: 43Requires Level 70, 95 Int(12-16)% increased Spell Damage
70
Vanguard Belt

Vanguard Belt

Requires Level 78+(260-320) to Armour and Evasion Rating
78
Opal Ring

Opal Ring

Requires Level 80(15-25)% increased Elemental Damage
80
The Porcupine

The Porcupine

6

Six-Link Short Bow


Item Level:

50

The first quill separates the quick learners from the dead.

1
Boon of Justice

Boon of Justice

6

Offering to the Goddess

Some gifts are obligations while others are simply opportunities.

1
Item acquisition
This item is drop disabled.
Unique versions
There are currently no unique items for this base item type.
Version history
Version
Changes
3.5.0

The Atlas of Worlds has been shuffled. Most maps have changed tier and location within the Atlas.
Many map bosses have also shifted around. Some have been retired and replaced!

3.2.0

The Orchard

Orchard Map

Map Level: 70
Map Tier: 3
Guild Character: <

The fruit that grows from bloody ground tastes sweetest.

Travel to this Map by using it in a personal Map Device. Maps can only be used once.

and Plaza map bosses now disable all the traps in their rooms when they die. Their magic packs have been moved to outside the boss room.

3.1.0

The entire Atlas has been reworked. Many map names have changed, as have their balance, tier and position on the Atlas. Many maps have also had their boss fights swapped or completely reworked.
The rules used to generate monsters in endgame maps have been significantly reworked and rebalanced around the rate at which we expect players to reliably clear out the map. In general, narrow, linear maps will contain fewer total monsters than maps with complex layouts. We will be closely monitoring and adjusting the balance of this change and expect to make further changes and improvements over time.

3.0.0

Map Balance: The Goddess of Justice: [sicSīc erat scriptum (Latin: "Thus it was written") – This quote is reproduced faithfully from its source with the preceding errors.] Now uses her warp ability more conditionally.

2.3.0

Introduced to the game. The Goddess of Justice is its boss encounter.