Precinct Map (Betrayal)
Precinct Map
Map Level: 73
Map Tier: 6
Guild Character: :
Crushed together and fenced in, to live out their lives like cattle.
Travel to this Map by using it in the Templar Laboratory or a personal Map Device. Maps can only be used once.
Acquisition
Level: 72
DROP DISABLED
Purchase Costs
Sell Price
1x Scroll Fragment
Miscellaneous
Item class: Maps
Crushed together and fenced in, to live out their lives like cattle.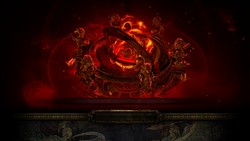 Layout
Encounters
Boss
Boss video
Items found in this area
Item
Abandoned Wealth

Abandoned Wealth

5

3x Exalted Orb

When the world burned, the greedy burned with it, while the clever left as paupers.

1
Jack in the Box

Jack in the Box

4

ItemTurn the crank,
close your eyes,
and pray to the gods
for a pleasant surprise.
1
The Gambler

The Gambler

5

Divination Card

"I don't believe in karma. If it were real, I would never win."

1
The Encroaching Darkness

The Encroaching Darkness

8

Map
Corrupted

No matter where your dreams take you, Nightmare follows close behind.

1
The Trial

The Trial

7

Map


Map Tier:

15


Corrupted

You cannot journey to new lands until you have the courage to leave the safety of home.

1
Her Mask

Her Mask

4

Sacrifice FragmentTo her beauty you submit,
lest your neck the great Queen slit.
1
The Tyrant

The Tyrant

9

Merciless Weapon


Item Level:

100

"Fear controls the masses."
- Laszlo, the Scourge
1
The Saint's Treasure

The Saint's Treasure

10

2x Exalted Orb

Publicly, he lived a pious and chaste life of poverty. Privately, tithes and tributes made him and his lascivious company very comfortable indeed.

1
The Undaunted

The Undaunted

5

Nemesis Item
Corrupted"Fate was always my nemesis...
But it didn't stop me then, and it won't stop me now."
- Kjetilbrann, The Undaunted
1
Item acquisition
This item is drop disabled.
Unique versions
There are currently no unique items for this base item type.
Version history
Version
Changes
3.6.0

The Atlas of Worlds has been shuffled. Most maps have changed tier and location within the Atlas.

3.5.0

The Atlas of Worlds has been shuffled. Most maps have changed tier and location within the Atlas.
Many map bosses have also shifted around. Some have been retired and replaced!

3.1.0

The entire Atlas has been reworked. Many map names have changed, as have their balance, tier and position on the Atlas. Many maps have also had their boss fights swapped or completely reworked.
The rules used to generate monsters in endgame maps have been significantly reworked and rebalanced around the rate at which we expect players to reliably clear out the map. In general, narrow, linear maps will contain fewer total monsters than maps with complex layouts. We will be closely monitoring and adjusting the balance of this change and expect to make further changes and improvements over time.

2.4.0

Introduced new map series

2.0.0

Introduced new map series

0.10.1