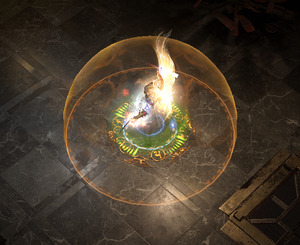 Proximity Shield is a defensive monster ability, which prevents all damage originating from sources outside its radius.
Monsters inside a proximity shield take no damage from projectile or other ranged attacks unless they are fired from inside the shield. Minions, traps, totems and mines are a good way to get around proximity shields as they count as their own source of damage, allowing a player to damage the monsters without going inside the shield themselves. Proximity shield also does not protect against damage over time, even if the hit that applied it originated from outside the shield.
Players can gain the protection of Proximity Shield by raising a monster with this ability as a spectre, or convert the monster as allies temporarily by using
Conversion TrapConversion TrapTrap, Spell, Duration
Level: (1-20)
Cost: (6-23) Mana
Cooldown Time: 8.00 sec
Can Store 3 Use(s)
Cast Time: 1.00 secThrows a trap that, when triggered by an enemy, converts that enemy to your side for a short duration. Does not affect unique monsters or players.Per 1% Quality:1Superior2Anomalous3Divergent1% increased Skill Effect DurationConverted Enemies have 1% chance to Taunt on HitConverted Enemies deal 20% increased DamageTrap lasts 4 seconds
Base duration is (5.3-10) seconds
Traps do not Trigger at the end of their DurationPlace into an item socket of the right colour to gain this skill. Right click to remove from a socket.
or
Dominating BlowDominating BlowAttack, Minion, Duration, Melee, Strike
Level: (1-20)
Cost: 8 Mana
Attack Damage: (165-238)% of base
Effectiveness of Added Damage: (165-238)%Requires Level 28Attacks enemies with a melee strike, applying a debuff for a short duration. If a non-unique enemy dies while affected by the debuff, the enemy's corpse will be consumed and a Sentinel of Dominance with the same rarity, prefix and suffix modifiers will be summoned for a longer secondary duration.Per 1% Quality:1Superior2Anomalous3Divergent4PhantasmalMinions deal 1% increased Damage1.5% increased Minion DurationSummoned Sentinels have 1% increased Cooldown Recovery RateMaximum 0.1 Summoned Normal Sentinels of DominanceDeals (165-238)% of Base Attack Damage
Base duration is 1 seconds
Maximum 9 Summoned Normal Sentinels of Dominance
Maximum 3 Summoned Magic Sentinels of Dominance
Maximum 1 Summoned Rare Sentinel of Dominance
Base secondary duration is 20 seconds
25% Chance to Summon a Normal Sentinel of Dominance when you Hit a Unique Monster
+(0-2) to Melee Strike RangePlace into an item socket of the right colour to gain this skill. Right click to remove from a socket.
, or steal the monster mod by using item such as
HeadhunterHeadhunter
Leather BeltRequires Level 40+(25-40) to maximum Life+(40-55) to Strength
+(40-55) to Dexterity
+(50-60) to maximum Life
(20-30)% increased Damage with Hits against Rare monsters
When you Kill a Rare monster, you gain its Modifiers for 20 seconds"A man's soul rules from a cavern of bone, learns and
judges through flesh-born windows. The heart is meat.
The head is where the Man is."
- Lavianga, Advisor to Kaom
or
Inspired LearningInspired Learning
Crimson JewelRadius: SmallWith 4 Notables Allocated in Radius, When you Kill a Rare monster, you gain 1 of its Modifiers for 20 secondsIf you do not learn from a won battle
then you have already lost the war.Place into an allocated Jewel Socket on the Passive Skill Tree. Right click to remove from the Socket.
.
Monsters
Variants
Monster mod
Monster skills
The following monsters use skill version of Proximity Shield:
Version history
| Version | Changes |
| --- | --- |
| 1.1.2 | Undying Evangelists' Proximity Shields have a shorter duration, and they use it less often. |
| 1.0.5 | Added a buff icon for being under the effects of Proximity Shield. |
| 1.0.4 | Fixed an interaction between the Headhunter unique item and the Proximity Shield Nemesis mod, where the Proximity Shield did not expire. |
| 1.0.3 | Added a new buff icon for the Proximity Shield effect. |
| 1.0.0 | Added to the game (Nemesis mod version) |
References