Racecourse Map
Map Level: 73
Map Tier: 6
Guild Character: k
Travel to this Map by using it in the Templar Laboratory or a personal Map Device. Maps can only be used once.
Acquisition
Area level: 73


DROP DISABLED
Vendor Prices
Vendor Offer
1x Scroll Fragment
Metadata
Item class: Maps
Metadata ID: Metadata/Items/Maps/MapAtlasRacecourse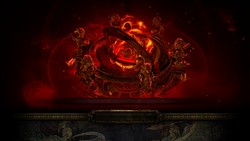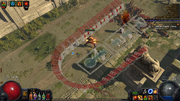 Racecourse Map consists of two long stadiums. Contains armor racks, weapon racks and gates that release Shackled Hellions.
Boss Arena
Large gladiator arena, similar to those in Act 4, with fountains and carts in the middle. Bosses wait on the far side and seal the entrance when engaged.
Boss
This map has 3 bosses standing together.
Shredder of Gladiators, unique Shackled Hellion. Maims on hit (slows movement) and leaves large burning ground when killed.
Crusher of Gladiators, unique Fighting Bull. Charges, casts delayed physical explosion on itself (yellow glow) and reflects damages (yellow spikes).
Bringer of Blood, unique Mad Gladiator. Uses
PuncturePunctureAttack, Projectile, Duration, Melee, Strike, Physical, Bow
Level: (1-20)
Cost: 6 Mana
Attack Speed: 70% of base
Attack Damage: (134-164)% of base
Effectiveness of Added Damage: (135-165)%Punctures enemies, causing a bleeding debuff, which will be affected by modifiers to skill duration. Puncture works with bows, daggers, claws or swords.Per 1% Quality:1Superior2Anomalous3Divergent4PhantasmalBleeding inflicted by this Skill deals Damage 0.5% fasterProjectiles Pierce 0.1 additional TargetsMelee Strikes target 0.1 additional nearby Enemies0.5% chance to Maim on HitDeals (134.74-164.56)% of Base Attack Damage
Base duration is 8 seconds
(3-75) to (4-113) Added Attack Physical Damage
(30-49)% more Damage with Bleeding
Causes Bleeding
+(0-2) to Melee Strike RangePlace into an item socket of the right colour to gain this skill. Right click to remove from a socket.

.
Boss video
Item acquisition
This item is drop disabled.
Upgrade paths
This item can be acquired through the following upgrade paths or vendor recipes:

Amount
Ingredient
Type
3
Pit Map

Pit Map

Map Level: 72
Map Tier: 5
Guild Character: U

Travel to this Map by using it in the Templar Laboratory or a personal Map Device. Maps can only be used once.

Manual
Usage in upgrade paths
This item is used by upgrade paths or vendor recipes to create the following items:

Outcome
Amount
Ingredient
Type
Cells Map

Cells Map

Map Level: 74
Map Tier: 7
Guild Character: 5

Travel to this Map by using it in the Templar Laboratory or a personal Map Device. Maps can only be used once.

3
Racecourse Map

Racecourse Map

Map Level: 73
Map Tier: 6
Guild Character: k

Travel to this Map by using it in the Templar Laboratory or a personal Map Device. Maps can only be used once.

Manual
Items found in this area
Item
The Gambler

The Gambler

5

Divination Card

"I don't believe in karma. If it were real, I would never win."

1
The Encroaching Darkness

The Encroaching Darkness

8

Map
Corrupted

No matter where your dreams take you, Nightmare follows close behind.

1
The Trial

The Trial

7

Map


Map Tier:

15


Corrupted

You cannot journey to new lands until you have the courage to leave the safety of home.

1
Her Mask

Her Mask

4

Sacrifice FragmentTo her beauty you submit,
lest your neck the great Queen slit.
1
The Visionary

The Visionary

6

Lioneye's Vision

Lioneye looked to the heights of glorious victory. And thus he missed the defeat right under his nose.

1
Other versions
Version history
Version
Changes
3.5.0

The Atlas of Worlds has been shuffled. Most maps have changed tier and location within the Atlas.
Many map bosses have also shifted around. Some have been retired and replaced!

3.1.0

Added 32 new maps including two new Unique maps.
The entire Atlas has been reworked. Many map names have changed, as have their balance, tier and position on the Atlas. Many maps have also had their boss fights swapped or completely reworked.
The rules used to generate monsters in endgame maps have been significantly reworked and rebalanced around the rate at which we expect players to reliably clear out the map. In general, narrow, linear maps will contain fewer total monsters than maps with complex layouts. We will be closely monitoring and adjusting the balance of this change and expect to make further changes and improvements over time.

2.4.0