Restricted Collection
Restricted Collection
Vaal area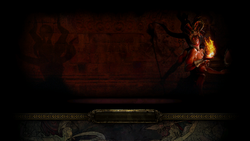 Restricted Collection is a Vaal side area that can be found in The Reliquary (Act 5) and (Act 10) in map.
The map variant has a different internal id: MapSideArea5_7. When forcing the vaal side area entrance to spawn by using
Hidden Vaal PathwaysHidden Vaal PathwaysAncient foes open new paths to the land they left barren.You will enter a hidden Vaal area that contains powerful enemies.Right-click to add this prophecy to your character.Seal Cost:
2x
Silver Coin
or the harvest map enchantment, apparently it is linked to
Relic Chambers MapRelic Chambers MapMap Level: 76
Map Tier: 9
Guild Character: 1Relics of a forbidden past. Hidden away. Forgotten.Travel to this Map by using it in a personal Map Device. Maps can only be used once.
.
Monsters
Items found in this area
Item
The Cataclysm

The Cataclysm

13

Level 21 Spell Gem
Corrupted

The mighty warriors traded in blows, the nimble archers in arrows, yet it was the brazen thaumaturgists who would bring catastrophe to all.

1
Vanity

Vanity

9

Tabula Rasa
Corrupted

1
Lore
It contains the Research Journal no.4.
Gallery
Version history
| Version | Changes |
| --- | --- |
| 3.0.0 | |