It has been suggested that this article be merged into Ritual.
Proposed since June 24, 2021 • Discuss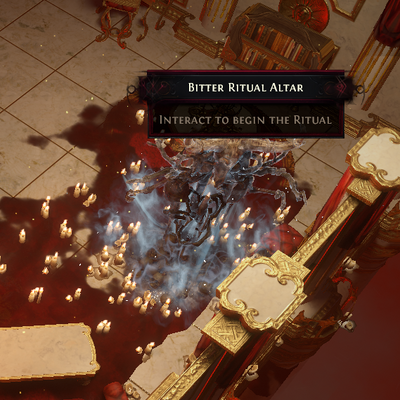 A Ritual Altar will appear throughout the campaign and into Maps. The amount of Rituals that will appear in each instance will vary from one to four. They will be inactive until enough enemies are killed within the radius of the altar to activate it, and will gradually light up per enemy killed until fully activated.
The first ritual altar on a map will re-summon the enemies killed within the radius (while the ritual is not charged), and give you Tribute.
All remaining ritual altars will repeat this behaviour but with additional effects listed as the following:
Will re-summon all enemies that were killed while charging previous altars. This means that you can kill the same rares/unique monsters multiple times in the same map if they've been killed within the radius of that altar.
If a map boss is killed before all altars have been successfully completed, the altar will resummon them each time a new altar is activated.
Addtional Information
Small, moving blood pools will appear under killed enemies that count towards the ritual when activated. Luring faraway monsters into the circle will not add to the ritual encounter.
Gallery
Version history
| Version | Changes |
| --- | --- |
| 3.13.0 | |
Ritual league

Mechanics

Ritual Altar
Ritual Splinter

Ritual Splinter

Stack Size: 100Combine 100 Splinters to create a Ritual Vessel.
Shift click to unstack.
Ritual Vessel

Ritual Vessel

Stack Size: 10

Stores the monsters slain for the first time from a completed Ritual Altar for future use

Right-click this item then left-click a Ritual Altar to store the monsters from the completed Ritual in this item. Cannot be used on a Ritual in a map opened with a Blood-Filled Vessel.
Shift click to unstack.
Blood-filled Vessel

Blood-filled Vessel

Can be used in a personal Map Device alongside a Map to add the monsters stored from a previous Ritual Altar to a Ritual Altar in that Map.

---

Atlas

Maven's Mechanics

The Maven's Beacon

The Maven's Beacon

Allows you to call the Maven to a map from your Map Device.

Right-click this item then left-click the Map Device in your Hideout to attach the Maven's Beacon.

The Maven's Writ

The Maven's Writ

It would be foolish to obey the Maven's demands.
It would also be foolish not to.

Open a portal to Absence of Mercy and Empathy by using this item in a personal Map Device. Can only be used once.

Crescent Splinter

Crescent Splinter

Stack Size: 10Precious and perilous,
Tantalising and terrible.Combine 10 Crescent Splinters to create The Maven's Writ.
Shift click to unstack.
Maven's Orb

Maven's Orb

Stack Size: 10Removes one Influenced Modifier from an item with at least two Influenced Modifiers and upgrades another Influenced Modifier. Upgrading a modifier of the highest tier transforms the modifier into an Elevated Modifier. Attempting to upgrade an Elevated Modifier rerolls its values. Can be used on Body Armours, Boots, Gloves and Helmets.Right click this item then left click an item with at least two Influenced Modifiers to apply it.
Shift click to unstack.

Quest Maven's Invitations
Craftable Maven's Invitations
Passives

Orb of Unmaking

Orb of Unmaking

Stack Size: 40

Grants an atlas passive skill refund point

Right click on this item to use it.
Shift click to unstack.

New Maps
Watchstones

Chromium
Platinum
Titanium
Unique

Misc

Elevated Sextant

Elevated Sextant

Stack Size: 10

Adds or rerolls a modifier on a Watchstone.

Right click this item then left click a Watchstone to apply it.
Shift click to unstack.

---

Harvest Crafting
New Gems

Hydrosphere

Hydrosphere

Spell, AoE, Duration, Cold, Orb, Lightning, Physical
Level: (1-20)
Cost: (12-20) Mana
Cast Time: 0.60 sec
Critical Strike Chance: 5.00%
Effectiveness of Added Damage: 80%Requires Level 34

Create a sphere of water, or move an existing sphere and reset its duration. The sphere continually applies a drenched debuff with a short duration to enemies in its area or those it moves through. You can hit the sphere with other skills to inflict Cold and Lightning Ailments (other than Chill). The sphere pulses when created, at regular intervals while afflicted by an Ailment, and after moving, damaging all drenched enemies in a large area.

Per 1% Quality:1

Superior

2

Anomalous

3

Divergent

0.5% increased Pulse Frequency

0.5% increased Cast Speed

0.5% increased Area of Effect

Base duration is 8 seconds
Deals (37-356) to (56-533) Physical Damage
Pulses every 0.4 seconds while Frozen, Shocked, Brittle or Sapped
Base secondary duration is 4 seconds
Drenched Enemies have Cold and Lightning Exposure, applying -10% to Resistances
100% of Physical Damage Converted to Cold Damage while Sphere has no Ailments
100% of Physical Damage Converted to Lightning Damage while sphere is Shocked or Sapped
100% of Physical Damage Converted to Cold Damage while Sphere is Frozen or Brittle

Place into an item socket of the right colour to gain this skill. Right click to remove from a socket.

Trinity Support

Trinity Support

Support
Icon:

y


Level: (1-20)
Cost & Reservation Multiplier: 140%Requires Level 18

Supports skills that hit enemies, causing them to gain bonuses while you have resonance of all three elements, and to grant resonance of elements other than the highest one in a hit. There is a maximum of 50 Resonance for each Element. Cannot support triggered skills, instant skills, orb skills, brands, skills which reserve mana, or skills used by totems, traps, or mines. Cannot modify the skills of minions.

Per 1% Quality:1

Superior

2

Anomalous

3

Divergent

Supported Skills deal 0.5% increased Elemental Damage

Supported Skills have 0.25% Chance to Freeze, Shock and Ignite

Supported Skills convert 0.5% of Physical Damage to a random Element

Supported Skills deal 3% more Elemental Damage per 5 of lowest Resonance
Supported Skills penetrate (8-16)% Elemental Resistances while each Resonance is at least 25
Hits with Supported Skills for which the highest Damage Type is Elemental cause you to gain 25 Resonance of other Elements per second for 2 seconds
Lose 5 Resonance per second of each Element you are not gaining

This is a Support Gem. It does not grant a bonus to your character, but to skills in sockets connected to it. Place into an item socket connected to a socket containing the Active Skill Gem you wish to augment. Right click to remove from a socket.

---

New Unique Items