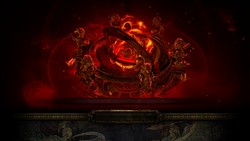 Saqawal's Roost is an end-game area where the battle with Saqawal, First of the Sky takes place.
Accessibility
6 portals to Saqawal's Roost could be opened through a specific beastcrafting recipe. The ingredients is Saqawine Rhex, a red beast, plus 3 random yellow beasts.
Note that if the player haven't unlock the portal recipe, even buying the Saqawine Rhex beast from other player, would not unlock the recipe and thus blocking the access to the boss arena.
The portal recipe is account-wide and unlocked once the player capture their first Saqawine Rhex.
Boss
Items found in this area
There are currently no items that have a drop table specific to this area.
Items from boss
One of the following unique items always dropped, chosen randomly:
Version history
| Version | Changes |
| --- | --- |
| 3.2.0 | |