Shaped Promenade MapMap Level: 81
Map Tier: 14
Guild Character: ÓTravel to this Map by using it in the Templar Laboratory or a personal Map Device. Maps can only be used once.
Acquisition
Area level: 81
DROP DISABLEDVendor Offer
1x Scroll FragmentMetadata
Item class: Maps
Metadata ID: Metadata/Items/Maps/MapAtlasPromenadeShaped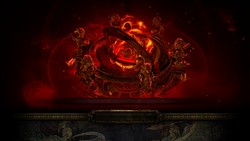 Item acquisition
This item is drop disabled.
Usage in upgrade paths
This item is used by upgrade paths or vendor recipes to create the following items:

Outcome
Amount
Ingredient
Type
Dark Forest Map

Dark Forest Map

Map Level: 82
Map Tier: 15
Guild Character: 7

Travel to this Map by using it in the Templar Laboratory or a personal Map Device. Maps can only be used once.

3
Shaped Promenade Map

Shaped Promenade Map

Map Level: 81
Map Tier: 14
Guild Character: Ó

Travel to this Map by using it in the Templar Laboratory or a personal Map Device. Maps can only be used once.

Manual
Other versions