Shaped Vaal Pyramid MapMap Level: 75
Map Tier: 8
Guild Character: GTravel to this Map by using it in the Templar Laboratory or a personal Map Device. Maps can only be used once.
Acquisition
Area level: 75
DROP DISABLEDVendor Offer
1x Scroll FragmentMetadata
Item class: Maps
Metadata ID: Metadata/Items/Maps/MapAtlasVaalPyramidShaped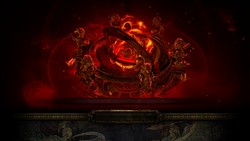 Map Layout
Shaped Vaal Pyramid map is based on the Ancient Pyramid zone in Act 2. It has 3 sections connected by stairs.
Map type: Indoors
Item acquisition
This item is drop disabled.
Usage in upgrade paths
This item is used by upgrade paths or vendor recipes to create the following items:

Outcome
Amount
Ingredient
Type
Reef Map

Reef Map

Map Level: 76
Map Tier: 9
Guild Character: Y

Travel to this Map by using it in the Templar Laboratory or a personal Map Device. Maps can only be used once.

3
Shaped Vaal Pyramid Map

Shaped Vaal Pyramid Map

Map Level: 75
Map Tier: 8
Guild Character: G

Travel to this Map by using it in the Templar Laboratory or a personal Map Device. Maps can only be used once.

Manual
Other versions