(5 intermediate revisions by 2 users not shown)
Line 1:
Line 1:
 
+

{{Base item

−

{{Item

 
−

|rarity = Normal

+

| =

−

|name = Shaped Vaal Pyramid Map

+

|name = Shaped Vaal Pyramid Map

−

|class = Maps

+

| =

−

|size_x = 1

+

|size_x = 1

−

|size_y = 1

+

|size_y = 1

−

|drop_level = 75

+

|drop_level = 75

−

|drop_rarities = Normal, Magic, Rare, Unique

+

| = , , ,

−

|tags = mid_tier_map, indoors_area, dungeon, high_level_map, not_for_sale, shaped_map, map, default

+

|tags = mid_tier_map, indoors_area, dungeon, not_for_sale, shaped_map, map, default

−

|metadata_id = Metadata/Items/Maps/MapAtlasVaalPyramidShaped

+

|metadata_id = Metadata/Items/Maps/MapAtlasVaalPyramidShaped

−

|help_text = Travel to this Map by using it in the Templar Laboratory or a personal Map Device. Maps can only be used once.

+

|help_text = Travel to this Map by using it in the Templar Laboratory or a personal Map Device. Maps can only be used once.

−

|map_tier = 8

+

|map_tier = 8

−

|map_guild_character = G

+

|map_guild_character = G

−

|map_area_id = MapAtlasVaalPyramid

+

|map_area_id = MapAtlasVaalPyramid

−

|unique_map_guild_character = g

+

|unique_map_guild_character = g

−

|unique_map_area_id = MapAtlasVaalPyramidUnique_

+

|unique_map_area_id = MapAtlasVaalPyramidUnique_

−

|unique_map_area_level = 70

+

|unique_map_area_level = 70

−

|map_area_level = 75

+

| =

−

|inventory_icon = Shaped Vaal Pyramid Map (Atlas of Worlds)

+

|

−

|drop_enabled = False

+

| =

−

|release_version = 2.4.0

+

| =

 
+

|release_version = 2.4.0

 

}}

 

}}

 

==Map Layout==

 

==Map Layout==

Line 25:
Line 26:
 
 
 

'''Map type''': Indoors

 

'''Map type''': Indoors

 
+

{{Item acquisition}}

−
 
−

==Vendor==

 
−

* Three {{il|page=Shaped Vaal Pyramid Map (Atlas of Worlds)|name=Shaped Vaal Pyramid Map}}s yield one {{il|page=Reef Map (Atlas of Worlds)|name=Reef Map}}

 
−
 
 

{{OtherMapVersions}}

 

{{OtherMapVersions}}
---
Latest revision as of 22:07, 19 January 2019
Shaped Vaal Pyramid Map
Map Level: 75
Map Tier: 8
Guild Character: G
Travel to this Map by using it in the Templar Laboratory or a personal Map Device. Maps can only be used once.
Acquisition
Area level: 75
DROP DISABLED
Vendor Offer
1x Scroll Fragment
Metadata
Item class: Maps
Metadata ID: Metadata/Items/Maps/MapAtlasVaalPyramidShaped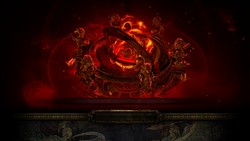 Map Layout
Shaped Vaal Pyramid map is based on the Ancient Pyramid zone in Act 2. It has 3 sections connected by stairs.
Map type: Indoors
Item acquisition
This item is drop disabled.
Usage in upgrade paths
This item is used by upgrade paths or vendor recipes to create the following items:

Outcome
Amount
Ingredient
Type
Reef MapReef MapMap Level: 76
Map Tier: 9
Guild Character: YTravel to this Map by using it in the Templar Laboratory or a personal Map Device. Maps can only be used once.

3
Shaped Vaal Pyramid MapShaped Vaal Pyramid MapMap Level: 75
Map Tier: 8
Guild Character: GTravel to this Map by using it in the Templar Laboratory or a personal Map Device. Maps can only be used once.

Manual
Other versions