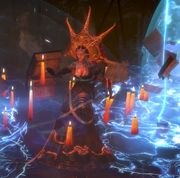 Shavronne of Umbra was a thaumaturgist and an important historical figure in Wraeclast.
Lore
Shavronne and Brutus
The Empire's second line of defence was a thaumaturgist named Shavronne, from a group of people or a location known as Umbra. When she realized Lioneye would fall to Kaom, Shavronne raced to the next defensible structure up the coast, Axiom Prison. She tricked or convinced the warden, Brutus, into allowing her to make him into a super-human monster capable of defeating the Karui. Brutus was never defeated by the Karui, although we don't know if they ever bothered attacking Axiom Prison. Although Karui carvings are found beyond Axiom Prison in the Coves, they might not have traveled there via Axiom; since the Karui possessed canoe technology they may have just travelled by sea up the coast.
Regardless of whether or not they encountered the Karui, according to Piety, Shavronne was slain by her very own creation.
Shavronne is attributed to creating four powerful artifacts:
Encounters
Shavronne is battled by the player several times in the storyline:
Furthermore she can be encountered in the following maps:
Shavronne the Sickening

in Cells Map

Cells Map

Map Level: 72
Map Tier: 5
Guild Character: Ú

Life crushed together. Left to crumble to dust.

Travel to this Map by using it in a personal Map Device. Maps can only be used once.

as a main boss
Gisale, Thought Thief in Scriptorium Map

Scriptorium Map

Map Level: 77
Map Tier: 10
Guild Character: ‡

Knowledge balanced atop a vast pit. Hold on, or perish in the darkness of ignorance.

Travel to this Map by using it in a personal Map Device. Maps can only be used once.

as a main boss
Prodigy of Darkness in Core Map

Core Map

Map Level: 81
Map Tier: 14
Guild Character: û

Black monstrous bridges cross oily rivers, leading nowhere. Nothing as it should be.

Travel to this Map by using it in a personal Map Device. Maps can only be used once.

as a side boss

Liantra

in Tower Map

Tower Map

Map Level: 69
Map Tier: 2
Guild Character: 0

We ascend to great heights to commit low acts.

Travel to this Map by using it in a personal Map Device. Maps can only be used once.

as a partial boss