This page is about the current map version. For other uses, see
Silo Map (disambiguation)
.
Silo Map
Map Level: 73
Map Tier: 6
Guild Character: •
Grim blessings whispered in the deepest, most secret of places.
Travel to this Map by using it in a personal Map Device. Maps can only be used once.
Acquisition
Level: 72
Vendor Prices
Vendor Offer
1x Scroll Fragment
Miscellaneous
Item class: Maps
| | |
| --- | --- |
| Id | MapWorldsSilo |
| Act | 11 |
| Area level | 72 |
| Bosses | Renkarr, The Kiln Keeper |
| Area type tags | urban, dungeon |
| Tags | map, einharmaps, indoors_area, fire_area, cannot_be_twinned |
| | The Shaper: Fiend and fortune-hunter alike turned to ash. A sorry alliance of unending agony. |
Grim blessings whispered in the deepest, most secret of places.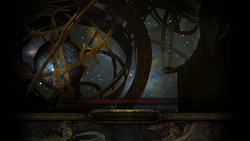 Layout
Indoor area.
The map uses the same tileset as heist's Tunnels. However, the corridors are wider.
Encounters
Boss
Renkarr, The Kiln Keeper, based on Vilenta

The "laser" of the boss arena is mistype by GGG as Vilenta's Beam, which deals fire damage over time. The storyline version deals physical damage over time.
Boss video
Items found in this area
Item
The Tinkerer's Table

The Tinkerer's Table

5

5x Fossil

Trying to bring your vision to life is enough to drive you mad.

1
Item acquisition
Upgrade paths
This item can be acquired through the following upgrade paths or vendor recipes:

Amount
Ingredient
General
Notes
Type
4
Boundless Realms

Boundless Realms

4

Map

Boundless is the distance between where we start and where we start again.

random map
Automatic
6
The Explorer

The Explorer

6

Map
Corrupted

A map is only useful if you know where you stand.

random corrupted map
Automatic
1
The Void

The Void

1

Reach into the Void and claim your prize.

random divination card set exchange
Automatic
Unique versions
There are currently no unique items for this base item type.
Version history
| Version | Changes |
| --- | --- |
| 3.13.0 | |
Catrgory:Maps