Slivertongue
Harbinger Bow
Bow
Quality: +20%
Physical Damage: (174-192) to (404.4-428.4)
Critical Strike Chance: (6.50%-7.50%)
Attacks per Second: 1.20
Weapon Range: 120
Requires Level 68, 212 Dex
(30-50)% increased Critical Strike Chance
Adds (110-125) to (245-265) Physical Damage
(150-200)% increased Critical Strike Chance with arrows that Fork
Arrows Pierce all Targets after Forking
Arrows that Pierce have +50% to Critical Strike Multiplier
A hundred blind heads, each seeking the taste of prey on the air.
Vendor Prices
Vendor Offer
6x Alchemy Shard
5x Alteration Shard
Weapon DPS
Physical: (347.0-372.2)
Phys+Chaos: (347.0-372.2)
Total: (347.0-372.2)
Metadata
Item class: Bows
Slivertongue is a unique
Harbinger BowHarbinger BowBow
Physical Damage: 35-92
Critical Strike Chance: (6.50%-7.50%)
Attacks per Second: 1.20
Weapon Range: 120Requires Level 68, 212 Dex(30-50)% increased Critical Strike Chance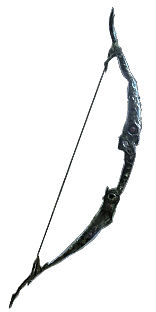 .
Item acquisition
Upgrade paths
This item can be acquired through the following upgrade paths or vendor recipes:

Amount
Ingredient
General
Notes
Type
8
Hunter's Resolve

Hunter's Resolve

8

BowPrimed, curved and sleek.
Decisive and final.
For malice and righteousness.
There's but one solution.
random bow
Automatic
4
Atziri's Arsenal

Atziri's Arsenal

4

Weapon
Corrupted

In the prison of all sins, will you grasp godhood or sorrow? Only hope lies under the shadows.

random corrupted weapon
Automatic
7
Prejudice

Prejudice

7

Item


Influenced ItemOne who is blinded by their past may
only see a sliver of the present.
random influenced item
Automatic
8
Arrogance of the Vaal

Arrogance of the Vaal

8

Item


Two-Implicit


Corrupted

Discovery can lead to beauty, or it can lead to ruin.

random two-implicit corrupted item
Automatic
4
Jack in the Box

Jack in the Box

4

ItemTurn the crank,
close your eyes,
and pray to the gods
for a pleasant surprise.
random item
Automatic
1
Singular Incubator

Singular Incubator

Adds an incubated Unique item to an equippable item
Item drops after killing # monsters

Unique Item

Right click this item then left click an item to apply it. The Incubated item drops after killing a specific number of monsters.

random item
Automatic
1
The Void

The Void

1

Reach into the Void and claim your prize.

random divination card set exchange
Automatic
Legacy variants
Slivertongue has legacy variants.
Version Discontinued
Modifiers
3.5.0




(30-50)% increased Critical Strike Chance

Adds (60-75) to (170-220) Physical Damage

100% increased Critical Strike Chance with arrows that Fork

Arrows that Pierce have 50% chance to inflict Bleeding

Arrows Pierce all Targets after Forking

Arrows Pierce all Targets after Chaining

Arrows that Pierce have +50% to Critical Strike Multiplier

1.0.0




(30-50)% increased Critical Strike Chance

No implicit modifier

Adds (60-75) to (170-220) Physical Damage

100% increased Critical Strike Chance with arrows that Fork

Arrows that Pierce have 50% chance to inflict Bleeding

Arrows Pierce all Targets after Forking

Arrows Pierce all Targets after Chaining

Arrows that Pierce have +50% to Critical Strike Multiplier
Gallery
Version history
Version
Changes
3.14.0

(Not in patch note) Shaper Guardian items are moved to core drop table.[1]

3.5.0

No longer causes arrows to pierce all targets after chaining, or arrows that pierce to inflict bleeding. Now causes arrows to pierce all targets after forking.
It now grants arrows that fork 150-200% increased Critical Strike Chance, and arrows that pierce +50% Critical Strike Multiplier. Slivertongue now has (110-125) to (245-265) (up from (60-75) to (170-220)) added Physical Damage.
Existing versions can be updated to these new values with a Divine Orb.

3.0.0

Now has a 50% chance to inflict Bleeding with Piercing arrows (down from 100%).
(Not in patch notes) The above change affects all version of the bow

2.4.0
References