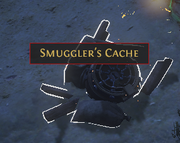 Smuggler's Cache is a type of loot container that can be found in act areas and map by random.
It contains contract,
Rogue's MarkerRogue's MarkerStack Size: 50000Creates a portal to the Rogue Harbour from a Town or Hideout
Used as Currency for services in the Rogue HarbourRight click on this item while in a Town or Hideout to use it.
Shift click to unstack.
, quest contract or other generic loots. It can drop blueprint but the chance is very low. The chance can slightly increased by Lira Arthain atlas passive Inside Job.
Smuggler's Cache is the only way to obtain quest contract. Smuggler's Cache is one of the two ways to obtain unique contract.
Related modifiers
| Name | Domain | | Stats | Spawn Weighting |
| --- | --- | --- | --- | --- |
| Lucky | Heist Trinket | 1 | Smuggler's Cache's have (5-6)% chance to Duplicate contained Rogue's Markers | default 100 |
| Lucky | Heist Trinket | 50 | Smuggler's Cache's have (7-8)% chance to Duplicate contained Rogue's Markers | default 75 |
| Lucky | Heist Trinket | 70 | Smuggler's Cache's have (9-10)% chance to Duplicate contained Rogue's Markers | default 50 |
Version history
Version
Changes
3.13.0

Smuggler's Caches now always drop a Quest Contract if possible, in addition to an ordinary Contract.
Smuggler's Caches now appear less frequently.

3.12.3

Significantly increased the likelihood of obtaining Unique Contracts from Smuggler's Caches.

3.12.0
Mechanics

Rogue's Marker

Rogue's Marker

Stack Size: 50000Creates a portal to the Rogue Harbour from a Town or Hideout
Used as Currency for services in the Rogue HarbourRight click on this item while in a Town or Hideout to use it.
Shift click to unstack.
Thief's Trinket

Thief's Trinket

Corrupted

You must find the sculpture The Catch in a Smuggler's Den or Underbelly Blueprint to be able to equip this

Smuggler's Cache

---

NPCs
Contracts
Blueprints
Bosses
Rewards

Types
Currency
Unique Items
Boss Drops

---

Rogue Gear

Weapons
Cloaks
Brooches
Lockpicking
Brute Force
Engineering
Agility
Counter-Thaumaturgy
Perception
Demolition
Trap Disarmament
Deception