Snow Cloak
Skill Id
BreachBlizzard
Cast Time
1s
Level Req.
(1-68)
Attack Speed
100%
Effectiveness of Added Damage
100%
Stored Uses
1
Cooldown
9s
Damage Multiplier
100%
(10-15)% reduced Damage taken
(10-20)% chance to Dodge Attack Hits
(10-20)% chance to Dodge Spell Hits
Base duration is 10 seconds
Skill Id
BreachBlizzardSpectre
Cast Time
1s
Level Req.
1
Attack Speed
100%
Effectiveness of Added Damage
100%
Stored Uses
1
Cooldown
9s
Damage Multiplier
100%
15% chance to Dodge Attack Hits
15% chance to Dodge Spell Hits
Base duration is 10 seconds
The snowstorm protects you. You have a chance to dodge attacks and spells while in it.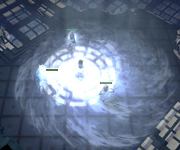 Snow Cloak is a buff, cast by They of Tul for its allies.
When They of Tul is raised as a spectre via the
Raise SpectreRaise SpectreSpell, Minion
Cost: (15-28) Mana
Cast Time: 0.85 secRequires Level 28Raises a spectral version of a defeated foe as a minion to fight for you in battle.Per 1% Quality:1Superior2Anomalous3Divergent4Phantasmal1% increased Minion Movement SpeedMinions deal 1% increased Melee Damage
1% increased Minion Maximum LifeMinions have 0.5% reduced Enemy Stun ThresholdMinions are Created with maximum Frenzy ChargesMaximum (1-2) Raised Spectres
55% more Minion Movement Speed
Minion Movement Speed is Capped
Raised Spectres are Level (28-72)
Minions have (105-776) additional Accuracy Rating
Minions have +30% to all Elemental ResistancesPlace into an item socket of the right colour to gain this skill. Right click to remove from a socket.
skill gem, or converted temporarily via
Conversion TrapConversion TrapTrap, Spell, Duration
Cost: (6-23) Mana
Can Store 3 Use(s)
Cooldown Time: 8.00 sec
Cast Time: 1.00 secRequires Level 4Throws a trap that, when triggered by an enemy, converts that enemy to your side for a short duration. Does not affect unique monsters or players.Per 1% Quality:1Superior2Anomalous3Divergent1% increased Skill Effect DurationConverted Enemies have 1% chance to Taunt on HitConverted Enemies deal 20% increased DamageTrap lasts 4 seconds
Base duration is (5.3-10) seconds
Traps do not Trigger at the end of their DurationPlace into an item socket of the right colour to gain this skill. Right click to remove from a socket.
, the player character and other allies gain additional chance to dodge attack and spell hits, while in the Area of Effect of Snow Cloak.
The buff effect of monster version of this skill scales with the monster level of They of Tul, which is capped at a maximum level of 68. (i.e., a lvl. 80 monster level They of Tul has the same max Snow Cloak skill as lvl. 68.) The monster version also granted reduced damage taken to monster's allies.
The internal id of the monster skill is "BreachBlizzard". The id of spectred version is BreachBlizzardSpectre.
Tul, Creeping Avalanche uses an enhanced version of the skill (id: BreachBlizzardBoss) which applies the buff to herself and her minions.
Skill progression
This only applies to the monster version, not the spectre version
| Level | | Reduced Damage taken | Chance to Dodge Attack Hits | Chance to Dodge Spell Hits |
| --- | --- | --- | --- | --- |
| 1 | 1 | 10% | 10% | 10% |
| 2 | 21 | 10% | 15% | 15% |
| 3 | 49 | 15% | 20% | 20% |
| 4 | 67 | 15% | 20% | 20% |
| 5 | 68 | 15% | 20% | 20% |
Monsters
The following monsters use Snow Cloak skills:
| Monster names | metadata id | skill ids |
| --- | --- | --- |
| They of Tul | Metadata/Monsters/MinerLarge/MinerLargeCommanderBreachAvatar | BreachBlizzard |
| They of Tul | Metadata/Monsters/MinerLarge/MinerLargeCommanderBreachNormal | BreachBlizzard |
| They of Tul | Metadata/Monsters/MinerLarge/MinerLargeCommanderBreach | BreachBlizzard |
| They of Tul | Metadata/Monsters/MinerLarge/MinerLargeCommanderBreachMap | BreachBlizzard |
| They of Tul | Metadata/Monsters/MinerLarge/MinerLargeCommanderBreachSpectre | BreachBlizzardSpectre |
| Tul, Creeping Avalanche | Metadata/Monsters/BreachBosses/BreachBossColdMap | BreachBlizzardBoss |
| Tul, Creeping Avalanche | Metadata/Monsters/BreachBosses/BreachBossColdMapStandalone | BreachBlizzardBoss |
Version history
| Version | Changes |
| --- | --- |
| 3.14.1 | Clarified that the Snow Cloak buff doesn't cause you to take less damage. This is purely a description change. |
| 3.13.0 | Spectred versions of They of Tul's Snow Cloak skill no longer grants reduced damage taken, and grants 15% chance to dodge attacks and spells (from 20%). |
| 3.10.1c | Fixed a bug where the Snow Cloak buff granted by They of Tul didn't have a description. |
| 2.5.0 | |