Sulphur Flask
Lasts 5.00 Seconds
Consumes 40 of 60 Charges on use
40% increased Damage
Requires Level 35
Creates Consecrated Ground on Use
Right click to drink. Can only hold charges while in belt. Refills as you kill monsters.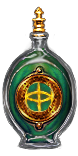 Acquisition
Area level: 35
Vendor Prices
Vendor Offer
1x Scroll Fragment
Metadata
Item class: Utility Flasks
Metadata ID: Metadata/Items/Flasks/FlaskUtility13
Sulphur Flask
Flask Effect
Sulphur Flask is a flask base type. The flask creates Consecrated Ground on use.
Unique versions
Item
The Sorrow of the DivineThe Sorrow of the Divine
Sulphur FlaskLasts (5.00-6.00) Seconds
Consumes 20 of 60 Charges on use
40% increased DamageRequires Level 35

Creates Consecrated Ground on Use

(25-50)% increased Duration
Zealot's Oath during Flask effect
Life Recovery from Flasks also applies to Energy Shield during Flask EffectAs man sins,
God weeps.

Right click to drink. Can only hold charges while in belt. Refills as you kill monsters.

35
The Overflowing ChaliceThe Overflowing Chalice
Sulphur FlaskLasts (4.40-4.80) Seconds
Consumes 20 of 60 Charges on use
40% increased DamageRequires Level 35

Creates Consecrated Ground on Use

100% increased Charge Recovery
(10-20)% increased Duration
Gains no Charges during Effect of any Overflowing Chalice Flask
100% increased Charges gained by Other Flasks during Flask Effect

Empty cup, full of promise.

Right click to drink. Can only hold charges while in belt. Refills as you kill monsters.

35
Bottled FaithBottled Faith
Sulphur FlaskLasts 5.00 Seconds
Consumes 40 of 60 Charges on use
40% increased DamageRequires Level 35

Creates Consecrated Ground on Use

(20-40)% increased Duration
Consecrated Ground created by this Flask has Tripled Radius
Consecrated Ground created during Effect applies (7-10)% increased Damage taken to Enemies
(100-150)% increased Critical Strike Chance against Enemies on Consecrated Ground during Flask effect

A tourniquet for the soul, squeezing ethereal into physical.

Right click to drink. Can only hold charges while in belt. Refills as you kill monsters.

35
Replica Sorrow of the DivineReplica Sorrow of the Divine
Sulphur FlaskLasts (5.00-6.00) Seconds
Consumes 20 of 60 Charges on use
40% increased DamageRequires Level 35

Creates Consecrated Ground on Use

(25-50)% increased Duration
Eldritch Battery during Flask effect
Life Recovery from Flasks also applies to Energy Shield during Flask Effect"Success! Prototype #54 has tapped into that sliver of divinity that exists within.
Faith fuels the flesh, and the flesh fuels the fire..."

Right click to drink. Can only hold charges while in belt. Refills as you kill monsters.

35
Item acquisition
Upgrade paths
This item can be acquired through the following upgrade paths or vendor recipes:

Amount
Ingredient
General
Notes
Type
4
The Surgeon

The Surgeon

4

Surgeon's Flask"He might be lacking in vision, but his virtuosity is undeniable."
- Malachai, on Maligaro
random Surgeon'sSurgeon's
Prefix
20% chance to gain a Flask Charge when you deal a Critical Strike flask
Automatic
1
The Void

The Void

1

Reach into the Void and claim your prize.

random divination card set exchange
Automatic
Quest reward
This item is given as a quest reward for the following quests:
Gallery
Version history
| Version | Changes |
| --- | --- |
| 3.15.0 | Sulphur Flask now lasts 5 seconds (previously 4). Now consumes 40 of 60 Charges on use (previously 20 of 60). |
| 2.2.0 | |