Summit Map
Map Level: 82
Map Tier: 15
Guild Character: ù
We are swept ever upwards by our ambition, with no thought of what awaits us at the peak.
Travel to this Map by using it in a personal Map Device. Maps can only be used once.
Acquisition
Level: 81
Vendor Prices
Vendor Offer
1x Scroll Fragment
Miscellaneous
Item class: Maps
We are swept ever upwards by our ambition, with no thought of what awaits us at the peak.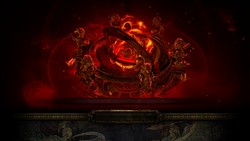 Layout
Encounters
Boss
Mephod, the Earth Scorcher, based on Abberath
Boss video
Items found in this area
Item
The Gambler

The Gambler

5

Divination Card

"I don't believe in karma. If it were real, I would never win."

1
The Encroaching Darkness

The Encroaching Darkness

8

Map
Corrupted

No matter where your dreams take you, Nightmare follows close behind.

1
Her Mask

Her Mask

4

Sacrifice FragmentTo her beauty you submit,
lest your neck the great Queen slit.
1
Mitts

Mitts

5

Gloves

Those whose hands are their livelihood know the importance of keeping them safe and warm.

1
Lingering Remnants

Lingering Remnants

16

Vaal Temple Map


Item Level:

83


CorruptedNever dying, yet not living,
Endlessly they wander
beneath the harvest moon.
1
The Wolverine

The Wolverine

4

Claw
Corrupted

Claw them from the bottom, you'll be glad that you have got 'em, claw them from the top, you'll never want to stop.

1
The Ruthless Ceinture

The Ruthless Ceinture

7

Meginord's Girdle
CorruptedIn combat, a warrior must first be resourceful,
and second, decisive.
1
The Mountain

The Mountain

6

Jewel of PotencyCharmed by beautiful stones
Consumed with the
pursuit of perfection
Ever deeper into the waiting dark
1
Item acquisition
Upgrade paths
This item can be acquired through the following upgrade paths or vendor recipes:

Amount
Ingredient
General
Notes
Type
8
Lost Worlds

Lost Worlds

8

Map


Map Tier:

15

"There are worlds that lie beyond the edge of my page, the edge of my understanding. Worlds of wonder. Worlds of terror."
Aramil - Cartographer to Emperor Chitus
random tier 15 map
Automatic
7
The Trial

The Trial

7

Map


Map Tier:

15


Corrupted

You cannot journey to new lands until you have the courage to leave the safety of home.

random corrupted tier 15 map
Automatic
4
Boundless Realms

Boundless Realms

4

Map

Boundless is the distance between where we start and where we start again.

random map
Automatic
6
The Explorer

The Explorer

6

Map
Corrupted

A map is only useful if you know where you stand.

random corrupted map
Automatic
1
The Void

The Void

1

Reach into the Void and claim your prize.

random divination card set exchange
Automatic
Unique versions
There are currently no unique items for this base item type.
Version history
Version
Changes
3.5.0

The Atlas of Worlds has been shuffled. Most maps have changed tier and location within the Atlas.
Many map bosses have also shifted around. Some have been retired and replaced!

3.1.0

Added 32 new maps including two new Unique maps.