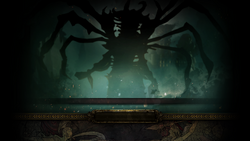 100% increased Experience gain
Minimap is Revealed
Syndicate Hideout (known as Syndicate Safehouse in quest UI) is an area. It the location of Immortal Syndicate Safehouse of the Intervention wing.
Layout
The area is linear. The boss room is located at the end of the area. Except the boss room, all areas are outdoor.
The area uses the tileset of
Strand MapStrand MapMap Level: 70
Map Tier: 3
Guild Character: 8Nothing good washes up
on this dark shore.Travel to this Map by using it in a personal Map Device. Maps can only be used once.
/ The Twilight Strand (Act 1).
Monsters
Bound Phantasm

Flayed Lookout

Flayed Vanguard

Flesh Manipulator

(a necromancer)

Ghastly Phantasm

Risen Lackey

Syndicate Enforcer

Syndicate Marksman

Syndicate Muscle

Syndicate Silencer
Any Immortal Syndicate members as bosses
Items found in this area
There are currently no items that have a drop table specific to this area.
Version history
Version
Changes
3.13.1c

Syndicate Safehouses now have a minimum area level of 73.

3.13.0

Opening the portals to a Syndicate Safehouse in your hideout after you've acquired a Map Device

Map Device

Hideout Item

Creates an object in your hideout

2 Variations

Favour cost: 0 now creates those portals at your Map Device.

3.8.0

Safehouses now have 100% increased Experience from monsters

3.5.0