Temple Map (Betrayal)
Temple Map
Map Level: 73
Map Tier: 6
Guild Character: -
Immaculate white stone rises from the abyss. Perfection.
Travel to this Map by using it in the Templar Laboratory or a personal Map Device. Maps can only be used once.
Acquisition
Level: 72


DROP DISABLED
Purchase Costs
Sell Price
1x Scroll Fragment
Miscellaneous
Item class: Maps
| | |
| --- | --- |
| Id | MapWorldsTemple |
| Act | 11 |
| Area level | 76 |
| Bosses | Jorus, Sky's Edge |
| Area type tags | temple, urban |
| Tags | indoors_area, map, area_with_water, delve_chest, einharmaps, solaris_area, wealthy_area |
| | The Shaper: Immaculate white stone rises from the abyss. Perfection. |
Immaculate white stone rises from the abyss. Perfection.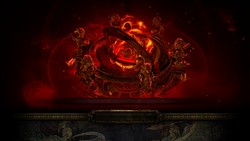 Layout
Encounters
Boss
Boss video
Items found in this area
Item
The Sun

The Sun

7

Rise of the Phoenix

Each night, the light dies, and each morning she is born anew, embracing the land in her golden wings.

1
The Gambler

The Gambler

5

Divination Card

"I don't believe in karma. If it were real, I would never win."

1
The Encroaching Darkness

The Encroaching Darkness

8

Map
Corrupted

No matter where your dreams take you, Nightmare follows close behind.

1
The Trial

The Trial

7

Map


Map Tier:

15


Corrupted

You cannot journey to new lands until you have the courage to leave the safety of home.

1
Her Mask

Her Mask

4

Sacrifice FragmentTo her beauty you submit,
lest your neck the great Queen slit.
1
Boundless Realms

Boundless Realms

4

Map

Boundless is the distance between where we start and where we start again.

1
Dialla's Subjugation

Dialla's Subjugation

7

Superior Support Gem


Quality:

+23%


CorruptedA symbol of beauty and innocence
The gems corrupted her mind
Malachai corrupted her gems
All but a glimmer of
greatness lost in madness
1
Crystal Belt

Crystal Belt

Requires Level 79+(60-80) to maximum Energy Shield
79
Two-Toned Boots

Two-Toned Boots

Evasion: 126
Energy Shield: 24Requires Level 70, 62 Dex, 62 Int+(8-12)% to Cold and Lightning Resistances
70
The Opulent

The Opulent

5

Ring


Item Level:

100

Wealth can, in fact, buy happiness.

1
The Twilight Moon

The Twilight Moon

6

The Twilight Temple

The day is dying, the night is born, the air grows cool, the sky is torn.

1
Artillery Quiver

Artillery Quiver

Requires Level 74

(20–30)% increased Totem Placement speed

74
Item acquisition
This item is drop disabled.
Unique versions
Item
Poorjoy's AsylumPoorjoy's Asylum
Temple MapMap Level: 73
Map Tier: 6
Guild Character: ß
Item Quantity: +100%
Item Rarity: +250%150% increased Experience gain
(140-160)% more Monster Life
(140-160)% increased Monster Damage
25% increased Monster Movement Speed
25% increased Monster Attack Speed
25% increased Monster Cast Speed
Area is a large Maze
Unique Boss drops (10-15) additional Rare (Life Flasks-Boots)Laughs of all the twisted
Echo through these halls of gold.
In this cold forgotten void
They wander, forever uncontrolled.

Travel to this Map by using it in the Templar Laboratory or a personal Map Device. Maps can only be used once.

1
Version history
Version
Changes
3.6.0

The Atlas of Worlds has been shuffled. Most maps have changed tier and location within the Atlas.
Temple Map

Temple Map

Map Level: 76
Map Tier: 9
Guild Character: -

Immaculate white stone rises from the abyss. Perfection.

Travel to this Map by using it in the Templar Laboratory or a personal Map Device. Maps can only be used once.

replaced Temple Map

Temple Map

Map Level: 73
Map Tier: 6
Guild Character: -

Immaculate white stone rises from the abyss. Perfection.

Travel to this Map by using it in the Templar Laboratory or a personal Map Device. Maps can only be used once.

3.5.0

The Atlas of Worlds has been shuffled. Most maps have changed tier and location within the Atlas.
Many map bosses have also shifted around. Some have been retired and replaced!
Temple Map

Temple Map

Map Level: 73
Map Tier: 6
Guild Character: -

Immaculate white stone rises from the abyss. Perfection.

Travel to this Map by using it in the Templar Laboratory or a personal Map Device. Maps can only be used once.

replaced Temple Map

Temple Map

Map Level: 76
Map Tier: 9
Guild Character: -

Travel to this Map by using it in the Templar Laboratory or a personal Map Device. Maps can only be used once.

3.1.0

The entire Atlas has been reworked. Many map names have changed, as have their balance, tier and position on the Atlas. Many maps have also had their boss fights swapped or completely reworked.
The rules used to generate monsters in endgame maps have been significantly reworked and rebalanced around the rate at which we expect players to reliably clear out the map. In general, narrow, linear maps will contain fewer total monsters than maps with complex layouts. We will be closely monitoring and adjusting the balance of this change and expect to make further changes and improvements over time.
Temple Map

Temple Map

Map Level: 76
Map Tier: 9
Guild Character: -

Travel to this Map by using it in the Templar Laboratory or a personal Map Device. Maps can only be used once.

replaced Temple Map

Temple Map

Map Level: 76
Map Tier: 9
Guild Character: Ä

Travel to this Map by using it in the Templar Laboratory or a personal Map Device. Maps can only be used once.

(undocumented) Jorus, Sky's Edge replaced Riftwalker as map boss

2.4.0

The Atlas of Worlds lets you track your progression through Path of Exile's map endgame. You can also use it to upgrade maps and add mods to the Atlas. It indicates which maps are connected to each other.
Most existing maps have been revamped to have more balanced monster composition, layouts, boss fights and rewards.
The map drop rules have been changed so that connected maps and maps you've previously completed can drop from the area you're playing. As you progress towards the center of the Atlas from the four corners, the tier of maps increases.
Temple Map

Temple Map

Map Level: 76
Map Tier: 9
Guild Character: Ä

Travel to this Map by using it in the Templar Laboratory or a personal Map Device. Maps can only be used once.

replaced Temple Map

Temple Map

Map Level: 73
Map Tier: 6
Guild Character: Ä

Travel to this Map by using it in the Templar Laboratory or a personal Map Device. Maps can only be used once.

2.0.0

We have introduced a new series of maps. You can recognise these by their volcanic KaruiStone art rather than the old grey tablets.
Maps from the old progression no longer drop. They can be played to find maps from the new progression.
Old maps have their old art and mods. Crafting them yields mods from the old progression.
Temple Map

Temple Map

Map Level: 73
Map Tier: 6
Guild Character: Ä

Travel to this Map by using it in the Templar Laboratory or a personal Map Device. Maps can only be used once.

replaced Temple Map

Temple Map

Map Level: 71
Map Tier: 6
Guild Character: Ë

Travel to this Map by using it in the Templar Laboratory or a personal Map Device. Maps can only be used once.

0.10.1