Two thousand years of regret.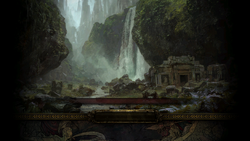 The Ancient Pyramid is the final area in Act 2. This area does not have a waypoint and is connected to The Caverns and The City of Sarn.
This area is split into four separate levels with the Vaal Oversoul at the end. The first three levels continue the maze of rooms from the previous area, and since the player is climbing through a pyramid the levels get progressively smaller. The top level is named Pyramid Apex and is a large circular room with the Dark Altar in the center. The boss battle begins when a player with
The ApexThe ApexThough its power has been shared, there
is still more the Apex might unlock.
in their inventory activates the altar.
Quests
Monsters
Guests:
Items found in this area
There are currently no items that have a drop table specific to this area.
Version history
| Version | Changes |
| --- | --- |
| 0.9.11 | The Vaal Oversoul boss was added to this area. |