The Ashen Fields

Scorched earth and slumbering cinder.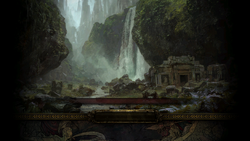 The Ashen Fields is an area in Act 7. This area has a waypoint and is connected to The Den and The Northern Forest.
The boss-arena is called The Fortress Encampment, which Greust, the NPC who was met by the player character in Act 2, has been possessed by Ralakesh and became a hostile humanoid monster called Greust, Lord of the Forest. Ralakesh itself was the totem in the centre of the arena. There is an environment lore object "Ode to Ralakesh" that can be interact at the entrance to the arena.
NPCs
Quests
Monsters
Items found in this area
Item
The Hermit

The Hermit

9

Lifesprig

The hermit's only friend is the greenery he can find.

1
Tranquillity

Tranquillity

7

Voltaxic Rift

Beware the sudden calm, for it is a sure sign of a storm on the horizon.

1
Rebirth

Rebirth

27

Charan's SwordHe shattered Her smile
Scattered the fragments like ash
All she did was laugh
1
Version history
| Version | Changes |
| --- | --- |
| 3.0.0 | |